Cities

hide Cities
Ports of Call

---

---

---

---

---

---

---

---
Mazatlan Port of Call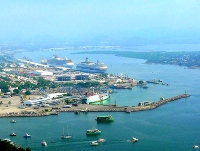 Mazatlan Bay © eutrophication&hypoxia
Mazatlan is a working commercial port moonlighting as a tourist beach haven: it's often a one-day stop on Mexican Riviera cruises. Despite its port industry and status as a wildly popular beach resort, Mazatlan retains the ambiance of a colonial fishing town. Although mega-resorts specialising in all-inclusive package holidays line its long beaches, Mazatlan still has a historic colonial city centre, most apparent in Plaza Machado at the heart of Old Town. An iconic waterfront walkway and the breathtaking spectacle of cliff divers plunging into the sea add to the charm but the miles of beaches are what lure most visitors.
Cruises in Mazatlan dock at a primarily commercial port and connect to the cruise terminal by a free tram. The cruise terminal has a small shopping area and taxis for a ten-minute ride into the city centre.
---
Contact
The main tourist office is on 100 Rodolfo Loaiza St
Tel: +52 669 913 8181
Website: www.gomazatlan.com
Transport
Taxis are the best way to get around Mazatlan, especially getting to the Golden Zone from the cruise terminal. Taxis are readily available from the terminal. Pulmonias, small open air taxis that can hold four people, are unique to Mazatlan and can be caught from the terminal as well.
Attractions
A long stretch of sand across the beaches of Playa Camaron and Playa Gaviotas is ideal for water activities of all kinds. Mazatlan is also one of the premier deep sea fishing locations in the world. The Golden Zone is a popular resort area for shopping and dining, and the Old Town also boasts some wonderful restaurants and shops. Many choose to stroll the popular waterfront walkway and visitors should be sure not to miss seeing the local cliff divers from Divers Point.
Restaurants
Topolo - popular for fine dining and good seafood.
Carlos & Lucia's - a casual diner with Mexican and Cuban flair.
Pancho's - Mexican seafood restaurant right on the beach.
Best Dish
Shrimp cooked every which way
Shopping
The Golden Zone is an aptly named golden opportunity for souvenir and knick knack shopping and is made for tourists. Old Mazatlan has slightly more authentic markets where crafts can be purchased. A shopping mall, La Gran Plaza, offers any modern necessities including a supermarket.
Best Buy
Gemstones (only from licensed stores)
Excursions
Golf on top designed courses
Go back in time in the abandoned town Copala
Kayak to nearby islands
Off-road in dune buggies
Cruise into the sunset
Become our Mexico Travel Expert
We are looking for contributors for our Mexico travel guide. If you are a local, a regular traveller to Mexico or a travel professional with time to contribute and answer occasional forum questions, please contact us.