Cities

hide Cities
Ports of Call

---

---

---

---

---

---

---

---
Puerto Vallarta Port of Call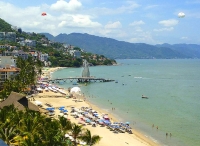 Puerto Vallarta © Pat Strosahl
Puerto Vallarta, on the Mexican Rivera, is book-ended by tall luxury resorts and a long line of white sand beach but in its centre there are charming colonial buildings and the remnants of a sleepy fishing town. The most popular activities are watersports on any part of the Golden Zone, a resorty stretch of sand. The Old Town is an attractive district for sightseeing and the perusal of some picturesque colonial architecture.
A new Maritime Terminal, built in 2007, can berth up to three cruise liners although sometimes a fourth has to anchor in the bay and tender passengers to the terminal. The terminal is three miles north of the city and has a host of tourist facilities such as shops, restaurants, and information centres. Transportation can easily be found to the city centre and the Old Town can be comfortably explored on foot.
---
Contact
Tel: +52 322 222 09 23
Website: www.visitpuertovallarta.com
Email: info@visitpuertovallarta.com
A tourism office is located in the Presidencia Municipal building downtown.
Transport
Taxis are easily caught at the cruise port but are generally more expensive than ones hailed from the highway. Both are only several dollars to the city centre although prices for un-metered taxis should be agreed on before-hand. Buses in the city are an easy way to travel short distances. Cruise lines often provide free shuttles to Puerto Vallarta city centre.
Attractions
Unsurprisingly, beach activities are the most popular and include scuba diving, snorkelling, boating and walking the seaside Melicon path. Other popular water activities include deep sea fishing, swimming with dolphins, and sailing trips in the bay. The Old Town is a popular place for a stroll, going souvenir shopping or visiting the colonial Spanish-Mexican buildings. Some of Mexico's finest golf courses, designed by Jack Nicklaus, are a hit with cruise passengers.
Restaurants
Teatro Limon - fine dining in a friendly atmosphere.
Casa Isabel - Mexican fusion with fantastic views.
Tacos Panchos - cheap and cheerful taco joint open for dinner.
Best Dish
Street-side tacos
Shopping
Several American-style shopping complexes can be found near the cruise terminal but better shopping is available in the city centre. In the Old Town and just off the Melicon visitors will discover the best souvenir shopping in authentic Mexican style markets. A swarm of art galleries are available all over town, many of them offering crafts from all over the country.
Best Buy
Beaded crafts.
Excursions
Drinking tequila in Tequila City.
Gliding through the trees on a canopy tour.
Whale watching in a sleek boat.
Horseback riding in the hillsides.
Relax in small town Sayulita.
Become our Mexico Travel Expert
We are looking for contributors for our Mexico travel guide. If you are a local, a regular traveller to Mexico or a travel professional with time to contribute and answer occasional forum questions, please contact us.