Introducing Micronesia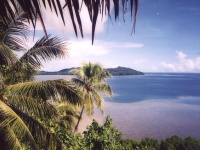 Forest and coastal view © ctsnow
Micronesia is a rather arbitrary name given to an enormous slice of earth. Greek for 'small' and 'islands', Micronesia is neither small nor a cohesive group of island people and cultures. Micronesia is comprised of 8 different nation-states; the Federated States of Micronesia (FSM) is a country within and is comprised of over 600 islands. The country is further divided into 4 states that have many unique histories and cultures.
While the FSM government received independence in 1986 it retained deep ties with the U.S. which it continues to rely on for defence and monetary aid. Ironically many in the U.S. military are citizens of the FSM.
The FSM can be a fascinating place to visit as the islands' prior isolation has provided modern day travellers an easy means to see many unique cultures. Much of FSM retains much of its older traditions. These vary drastically between islands which can lead to confused tourists and sometimes insulted locals.
The cultures are not the only unique aspects of the country as the volcanic process that dotted the area�s waters with islands wasn�t very consistent. Islands growing, falling and hardly pushing above water have created great lagoons and reefs.
Chuuk is a popular state to visit with divers. A Japanese fleet was sunk off its shores in WWII making it among the best shipwreck diving sites in the world. Yap Island has unique hill scenery in contrast to the volcanic formations and coral atolls that created the rest of the FSM. Pohnpei is the most populated of the states while Kosrae is the least. Both are welcoming to tourists.
Although the islands stretch for 1,800 miles (2,900 km) the FSM is largely off the tourist map. Thus, tourism infrastructure isn�t yet very developed. Many of the islands are difficult to reach by either plane or ferry. For willing explorers this also means hundreds of secluded blue water beaches and little visited regions.
Become our Micronesia Travel Expert
We are looking for contributors for our Micronesia travel guide. If you are a local, a regular traveller to Micronesia or a travel professional with time to contribute and answer occasional forum questions, please contact us.