Introducing Montenegro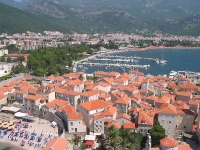 Budva, Montenegro © Igycg
Republic of Montenegro, situated on the southern Adriatic coast of Eastern Europe.
Formerly a part of Yugoslavia, Montenegro was embroiled in the ethnic and civil unrest that plagued the region in the 1990s. After peace was brokered Montenegro was joined to Serbia as a combined state, but following a referendum in June 2006 the country declared its independence, and is now feeling its way into a new Republican era.
Montenegro, for a long while considered an unsafe no-go area, is now being deservedly extolled as the new dream holiday destination - but if truth be told, there is nothing new about it. The charm of this country lies in its picturesque medieval towns and villages, its timeless river valleys, beautiful beaches, glassy lakes and towering mountains.
The most popular area for tourism is the narrow coastal section, which stretches from Igalo in the west to the Bojana river mouth in the east, indented by numerous verdant fjords, and washed by the azure blue Adriatic Sea. The resort area known as the Budva Riviera offers sandy beaches and balmy summer days. Across the Dinarian Mountains is the central plain, where the capital, Podgorica, swelters through baking hot summers and the scenic Skadar Lake region offers a tranquil retreat. The north of Montenegro is dominated by mountains, where rivers have carved spectacular canyons through the tall forests and in winter the ski resorts of Zabljak and Kolasin provide snowy fun. There are also two national parks in this area, which draw keen eco-tourists.
Montenegro is undoubtedly a natural Balkan beauty, offering a real get-away-from-it-all holiday for everyone from beach bums to sophisticates. Don't forget your camera!
Our Travel Expert
Luka was born and raised in Montenegro. He has travelled the world extensively for work and pleasure, but the uniqueness of Montenegro has kept him returning home and he loves exploring his own country.
>Read Luka's tips on Montenegro
>Ask Luka a question
---
Become our Montenegro Travel Expert
We are looking for contributors for our Montenegro travel guide. If you are a local, a regular traveller to Montenegro or a travel professional with time to contribute and answer occasional forum questions, please contact us.
---