Cities
Ports of Call

---

---
Agadir Port of Call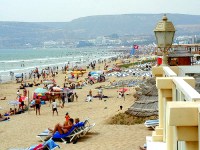 Camels on the beach at sunset © Moroccan Tourist Board
The modern city of Agadir is a popular midway point for cruises heading to the Canary Islands. Completely rebuilt since a devastating earthquake in 1961, the busy port draws thousands of tourists with its pretty sandy beaches and 300 days of sunshine per year.
---
Contact
Agadir Tourist Office: Immeuble A.Place du Prince ;48 84 63 77
Transport
Agadir is small enough to explore on foot, however the city's taxis are reliable and generally inexpensive. There is a public bus system, but it tends to be slow, hot and crowded.
Attractions
The primary attractions of Agadir are its lovely beaches, and perfect for sunbathing and swimming as there tends to be little wind. There are sights though, including the remains of a fortress and a small zoo.
Restaurants
Le Maxwell: relaxed beachfront restaurants and bar with Moroccan and Mediterranean fare
La Scala: elegant and pricey seafood restaurant in town
Restaurant Daffy: indoor and outdoor traditional Moroccan restaurant
Best Dish
harira soup
Shopping
The municipal market has a number of shops selling popular souvenirs, though you won't find the culture of spirited haggling as in other parts of Morocco. The Argan House is a popular stop for their locally-made spa products.
Best Buy
leatherwork, tea, spices, argan tree spa products
Excursions
Birdwatching and hiking in Souss-Massa River National Park
Visiting Taroudannt, a small, more traditional city east of Agadir
Sunbathing at Taghazout beach
Jetskiing in Agadir Bay
Become our Morocco Travel Expert
We are looking for contributors for our Morocco travel guide. If you are a local, a regular traveller to Morocco or a travel professional with time to contribute and answer occasional forum questions, please contact us.
iExplore designs made-to-order, privately-guided adventure tours to Morocco and over 200 other world wonders. Come Back Different!
ADVERTISEMENT
---
Intrepid Travel, one of the world's leading suppliers of small group adventures focused on getting off the beaten track, interacting with the locals and having real life experiences throughout Morocco.
ADVERTISEMENT
---