Cities

hide Cities
Ports of Call

---
Casablanca Port of Call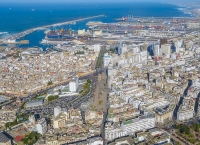 Port of Casablanca © Brio-En
Travellers expecting the glamour and mystery of Humphrey Bogart's Casablanca may be disappointed to find a busy, modern port, but the city is a convenient and popular gateway to Morocco for cruise passengers nonetheless. It is the biggest and most important port in Morocco and beneath the industrial surface some interesting history can be found.
Casablanca is a busy, fast-growing port city with a European character. The population explosion, brought about chiefly by immigration from the countryside, has brought with it some social problems. The gap between the haves and the have-nots in Casablanca may be wide, but the city centre is impressive and modern, with wide avenues and soaring skyscrapers. The people too are modern and there is little sign of traditional dress and modestly scarved women.
---
Contact
Casablanca Tourist Information Centre: 98 Boulevard Mohamed V; +212 22 15 24
Transport
Casablanca has recently developed an efficient new tramway network which covers a substantial portion of the city. There is also an extensive bus network; however, many travellers find it difficult to navigate. The most popular form of transport is taxis, as the taxi drivers are extremely knowledgeable. The medina is small enough to explore on foot.
Casablanca is also well connected to other major destinations such as Rabat and Marrackech by it's well-established rail network. Rapid rail routes service Casablance regularly.
Attractions
The main attraction in Casablanca is the immense King Hassan II Mosque, which is the iconic landmark of the city and one of the few mosques in Morocco open to non-Muslims. The coastal Shrine of Sidi Abderrahman is off-limits, but walking there along the beach is pleasant and there's a bustling neighbourhood around it to explore. The old town (medina), is small and a good way to experience a more traditional aspect of Morocco, while in the Corniche neighbourhood visitors will find modern nightclubs, hotels and Western restaurants, although parts of the neighbourhood have become a bit seedy in recent years.
Restaurants
Bistrot Burger Restaurant - tasty food in a convenient location.
Taverne du Dauphin - popular seafood restaurant near the medina.
Rick's Cafe - an atmospheric reproduction of the restaurant from Casablanca.
Best Dish
Tagines are a classic Moroccan dish. Fragrant and delicious, tagines are available in a variety of options including chicken, lamb and vegetable.
Shopping
The old city area is small, but like the medina of most Moroccan cities it serves as an atmospheric bazaar. The canny shopkeepers, however, ensure that there are few real bargains to be had here. The famous Marché Central (Central Market) is the best place to go for bargains, and the Derb Ghraleef neighbourhood can be rewarding for the more adventurous.
Best Buy
Moorish silver jewellery, leather goods, hookahs, tagines.
Excursions
Enjoy beach clubs and swimming pools at Aïn Diab.
Relax at the cafes and amusement parks in Parc des Jeux Yasmina.
Become our Morocco Travel Expert
We are looking for contributors for our Morocco travel guide. If you are a local, a regular traveller to Morocco or a travel professional with time to contribute and answer occasional forum questions, please contact us.