Cities
Ports of Call

---
Casablanca Port of Call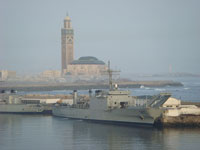 Camels on the beach at sunset © Moroccan Tourist Board
The huge city of Casablanca is a busy fast-growing port with a European character. The population explosion, brought about chiefly by immigration from the countryside, has brought some social problems like crime and prostitution, and resulted in the proliferation of shantytowns. The gap between the haves and the have-nots in Casablanca may be wide, but the city centre is impressive and modern, with wide avenues and well-kept skyscrapers. The people too are modern and there is little sign of traditional dress and modestly scarved women.
---
Contact
Casablanca Tourist Information Centre: 95 boulevard Mohamed V; 22 15 24
Transport
There isn't much in the way of public transport in Casablanca, but taxi drivers are extremely knowledgeable, and the medina is small enough to explore on foot.
Attractions
The main attraction in Casablanca is the immense King Hassan II Mosque, which is the iconic image of the city and one of the few mosques in Morocco open to non-Muslims. The coastal Shrine of Sidi Abderrahman is off-limits, but walking there along the beach is pleasant and there's a bustling neighbourhood around it to explore. The old town (medina), is small and a good way to experience a more traditional aspect of Morocco, while the Corniche is where you'll find modern nightclubs, hotels and Western restaurants.
Restaurants
La Cigale: energetic bar and restaurant with live music
Taverne du Dauphin: seafood restaurant near the medina
Rick's Cafe: reproduction of the film restaurant, fun but expensive
Best Dish
Lamb tagine
Shopping
The old city area is small, but like the medina of all Moroccan cities it serves as a bazaar venue. The canny shopkeepers, however, ensure that there are few bargains to be had here. The famous Marché Central (Central Market) is the best place to go for bargains, and the Derb Ghraleef neighbourhood can be rewarding for the adventurous.
Best Buy
Moorish silver jewellery, leather goods, hookahs, tagines
Excursions
Enjoy beach clubs and swimming pools at Aïn Diab
Relax at the cafes and amusement parks in Parc des Jeux Yasmina
Become our Morocco Travel Expert
We are looking for contributors for our Morocco travel guide. If you are a local, a regular traveller to Morocco or a travel professional with time to contribute and answer occasional forum questions, please contact us.
iExplore designs made-to-order, privately-guided adventure tours to Morocco and over 200 other world wonders. Come Back Different!
ADVERTISEMENT
---
Intrepid Travel, one of the world's leading suppliers of small group adventures focused on getting off the beaten track, interacting with the locals and having real life experiences throughout Morocco.
ADVERTISEMENT
---