Introducing Myanmar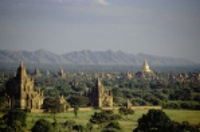 Bagan, Myanmar © CortoMaltese_1999
*Tourists are advised against all but essential travel to certain ares, particularly the Northen states where political tension and unrest could happen at short notice.
Myanmar, still known as Burma to many, is fondly referred to as 'the Golden Land' because of the abundant use of gold leaf on its temples and shrines. It is a country with a rich diversity of cultures, religions and languages - home to more than 100 ethnic groups - and a history spanning over three millennia, reflected in some of Southeast Asia's most abundant and opulently adorned temples. The majesty of gold-plated Schwedagon Pagoda in Yangon, the astounding temple ruins of Bagan, and the mystique of Mandalay are just some of the unique drawcards that earn rave reviews and repeat visits from those that enter Myanmar's well-guarded borders.
Myanmar is situated along the eastern coast of the Bay of Bengal and the Andaman Sea and its northern borders stretch all the way up to the Eastern Himalayan mountain range. It borders India to the west, China to the north, and Thailand and Laos to the east. One third of Myanmar's perimeter is uninterrupted and largely undeveloped coastline.
This beautifully scenic country has a rocky political past. It was a British Colony from 1885 until 1948, and since independence has largely been ruled by a military dictatorship. Ethnic strife has plagued the country leading to a poor human rights record and international sanctions; however, Myanmar has taken long strides towards democracy in the last few years, with the election of Aung San Suu Kyi's party in 2015 bolstering hope for further reform. Certainly, this once secretive and isolated country has enthusiastically flung open its borders to travellers, and although ethnic conflict is still a problem, foreigners are seldom the target of this violence. In fact, Myanmar has one of the lowest tourist crime rates in the world, so travellers can relax in the knowledge that their trip should be trouble-free.
Myanmar is only recently making an appearance on the international travel scene due to its internal politics, but the lovely beaches, incredible historical attractions, snow-capped mountains and jungle wilderness have already attracted lots of attention. In fact, past tragedies have ensured that Myanmar is one of the most authentic and unspoiled countries in Asia, an irresistible destination for travellers wanting to experience the ancient traditions of the continent.
Become our Myanmar Travel Expert
We are looking for contributors for our Myanmar travel guide. If you are a local, a regular traveller to Myanmar or a travel professional with time to contribute and answer occasional forum questions, please contact us.