Cities
Introducing Namibia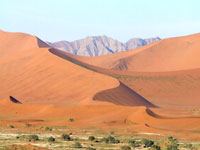 Sossusvlei dunes © Judith Duk
A holiday in Namibia is the opportunity of a lifetime to experience the beauty of a pristine natural environment teeming with wildlife.
Since Namibia has one of the most uninviting and desolate coastlines in the world, it was neglected by early European explorers like the Portuguese, who limited their activities to setting up navigational crosses along the desert shoreline. Today visitors have discovered the vast potential of a country rich in natural resources, with desert landscapes, sunshine, wildlife and a rugged, barren beauty.
It was only during the last half of the 19th century that the race for colonies among the world powers began, and so ensued the German control that became Namibia's colonial reign of terror. The indigenous tribes tried vigorously to retain their independence, and in 1904 a major uprising by the Herero and Nama people resulted in massive genocidal retaliation by the colonialists, with an estimated 60 percent of the southern native population being wiped out. Today the total population reaches just over two million and consists of 11 main ethnic groups, while the influence of German colonisation is still evident in architecture, food and language, particularly in the capital city of Windhoek.
Namibia has a diversity of natural habitats: the rugged coastline and haunting beauty of the Skeleton Coast, the endless stretch of undulating ochre-coloured sand dunes at Sossusvlei, the impressive gorge of the Fish River Canyon winding through the arid landscape of the great plateau, and the vast salt pan of Etosha National Park, one of the world's greatest wildlife viewing destinations. These are the attractions that draw travellers to one of Africa's more intriguing destinations, the unspoilt wilderness of Namibia.
Our Travel Expert
Phoebe is a farm girl from the UK who, armed with a Geography degree, set off a few years ago to develop a career and discover the world. She first visited Namibia to assist with a research project, and fell immediately in love with this beautiful country. She now lives in Johannesburg and works as a safari guide in Namibia, Botswana and South Africa.
>Read Phoebe's tips on Namibia
>Ask Phoebe a question
---
Become our Namibia Travel Expert
We are looking for contributors for our Namibia travel guide. If you are a local, a regular traveller to Namibia or a travel professional with time to contribute and answer occasional forum questions, please contact us.
---
Africa Miracles specialises in tailor-made holidays to Namibia. Travel to the website and find information on Namibia and suggested itineraries.
ADVERTISEMENT
---
iExplore designs made-to-order, privately-guided safaris to Namibia and adventures in over 200 other world wonders. Come Back Different!
ADVERTISEMENT
---
Intrepid Travel, one of the world's leading suppliers of small group adventures focused on getting off the beaten track, interacting with the locals and having real life experiences throughout Namibia.
ADVERTISEMENT
---