Introducing Nauru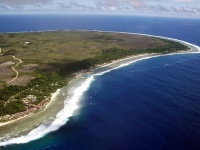 Nauru coastline © Cedri
Nauru is an unremarkable 16-square-mile (21km) Micronesian island, just south of the equator, with a remarkable recent past. Until recently, phosphate mines gave the islanders one of the highest per capita incomes in the world. When the mines were exhausted the island was strip-mined for trace amounts to provide some export revenue. Left with an environmentally ravaged land and little source of income the nation was awarded recompense from Australia.
Nauru then became a shelter for money laundering before international pressure closed this door as well. The latest scheme to generate sustainable income for the island has seen Nauru become an Australian detention centre. Illegal Asian emigrants are kept on the island as an international legal grey area as Nauru received aid from Australia for the service.
For tourists interested in old mines, money laundering, or detention facilities flights arrive twice a week from Australia. Like many of the Micronesian islands Nauru has picturesque palm lined beaches. Deep sea fishing, bird watching and diving are also possible for tourists.
For others, the island's little novelties might be reason to visit. Nauru is the smallest independent republic and is the least populous of United Nation members. Its people are also among the world's most obese. Unless on specific agendas, most tourists wouldn't find Nauru particularly worth visiting.
Become our Nauru Travel Expert
We are looking for contributors for our Nauru travel guide. If you are a local, a regular traveller to Nauru or a travel professional with time to contribute and answer occasional forum questions, please contact us.