Introducing Niger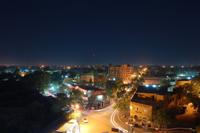 Niamey at night ©
Niger is a landlocked country in the heart of Africa most famous for its diverse cultures and oases of wildlife amidst its mostly arid, desert landscape.

The capital city is Niamey, a pleasant, fairly modern settlement with great open-air markets and a picturesque position along the Niger River. The National Museum is worth a visit, mostly for the impressive artisans collective which produces high-quality goods for fair but surprisingly non-negotiable prices.

Travel can be arduous as the roads are mostly unpaved and potholed, plus banditry amounts to a night time curfews for cars. It is also astoundingly hot.

The country's top attraction is W National Park, a UNESCO World Heritage site, and home to abundant wildlife. Koure, south-east of Niamey is famous for its herd of giraffe, the last wild herd in West Africa. Other sites worth visiting are the old trading centres of Agadez with its vibrant Touareg and black African cultures, and Zinder with its maze-like old town and interesting Sultan's Palace.

Niger was a former French colony, achieving independence in 1960. It suffers from periodic droughts, widespread corruption and poorly developed human capital, all which conspire to make this one of the poorest countries in the world. Niger also has the tragic distinction of having the highest fertility rate in the world (7.2 births per woman) and one of its highest infant mortality rates.

Apart from aid workers and businessmen the only visitors Niger sees are intrepid backpackers and adventurers. Those that do take the trouble to visit report meeting some of Africa's most friendly and interesting people.
Become our Niger Travel Expert
We are looking for contributors for our Niger travel guide. If you are a local, a regular traveller to Niger or a travel professional with time to contribute and answer occasional forum questions, please contact us.