Introducing Nigeria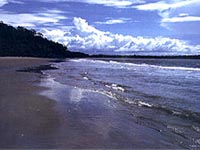 Calabar Beach © Nigerian Embassy
*There is currently a high threat from terrorism in Nigeria, with numerous attacks and kidnappings blamed on Boko Haram, particularly in the northern states. Many governments have issued serious travel warnings for parts of the country. Travellers are advised to inform themselves on the situation and to take note of travel warnings from official government sources before visiting Nigeria.
Situated in tropical West Africa, the oil-rich state of Nigeria is the regional superpower and the most populous country in Africa. It is listed as one of the 'Next Eleven' major economies of the world - yet despite its abundant natural resources, it remains one of the world's poorest countries, with a per capita GDP of just US$300 per annum.
The country is made up of over 250 tribes, and this potentially explosive mix, together with tensions between the Muslim and Christian sections of population (the majority of Nigeria's Christian population lives in the oil-producing, wealthier southern region of the country), have contributed to Nigeria's potential being untapped. Decades of civil war, famine, military dictators and rampant corruption have left the country with deep divisions that will take many years to heal over completely. There are stirring signs of recovery, however, and Nigeria is emerging as an eminent tourist destination in Africa - welcoming nearly two million visitors a year.
The capital city is Abuja, but the largest economic centre and chief port is the former Colonial capital of Lagos, located on the Bight of Benin in southwestern Nigeria. The capital was moved to Abuja, located in the heart of the country, in 1991, largely in a bid to curb the frenetic migration to Lagos not only from rural Nigeria, but from neighbouring countries as well. Despite this measure, Lagos remains a sprawling, overcrowded industrial metropolis, home to nearly 8 million people.
With 500 miles (805km) of coastline, Nigeria has all the raw ingredients to make for a top tourist destination, and the new government has pledged to improve infrastructure and attract investment to tap the country's tourism potential. Meanwhile, this varied land of sandy beaches, lagoons, tracts of tropical forest, magnificent waterfalls and fascinating historic sites is being enjoyed by only the most adventurous travellers.
The vast majority of visitors to Nigeria come for business, and the regular flights from Europe and North America have so far been filled mainly with oil executives looking for their slice of Africa's largest oil producer.
Become our Nigeria Travel Expert
We are looking for contributors for our Nigeria travel guide. If you are a local, a regular traveller to Nigeria or a travel professional with time to contribute and answer occasional forum questions, please contact us.