Introducing North Korea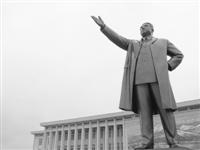 Memorial to Kim Il Jung ©
North Korea is the world's most bizarre tourist destination and for that reason uniquely worth visiting for the curious tourist looking to experience a regime founded on a cult of personality and delusional fear of outsiders.
It is ironic that the country's full title is the Democratic Peoples Republic of Korea (DPKR) because this is easily the least democratic place on earth. It is the purest example of a totalitarian regime in that the state controls virtually every aspect of life. In turn, that state is controlled by one particular family, passing control last year from the diminutive Kim Jong Il to his son, Kim Jong Un. He commands an army that numbers over 6 million, and his nation is the most militaristic on earth with over 25 percent of GDP spent annually on the armed forces.
Tourism is tightly controlled but visas are rarely refused. Only about 1,500 western tourists visit each year, and all must enter as part of an organised tour. Each group is assigned tour guides that will accompany your every pre-ordained movement. On the plus side your chance of getting mugged is zero, however don't expect to see anything of real life in North Korea.
Visitors should never insult or disrespect the regime or Kim Jung Il, no matter how appealing the prospect. You and especially your guide will get into serious trouble as it is safe to assume that you are being monitored throughout your visit. In fact, in North Korea it is impossible to be paranoid - here, you are actually being watched all the time!
Tourists will enter on an Air Koryo flight, the national airline which has the dubious distinction of earning the only one-star rating by Skytrax, the lowest rating available. The EU has outright banned Air Koryo from flying there.
The capital city is Pyongyang, notable for its strangely absent people and empty roads. The main sites are enormous memorials and statues commemorating the DPRK's founder leader Kim Il Sung. It's a strange and unsettling city to visit, because lurking behind the concrete facades that your guide will shepherd you past, are the average citizens who live without power, regular food and any vestige of human rights. The city skyline is dominated by the enormous and permanently unfinished Ryugyong hotel, further testament to the crazed and impractical imagination of the regime's leader.
Become our North Korea Travel Expert
We are looking for contributors for our North Korea travel guide. If you are a local, a regular traveller to North Korea or a travel professional with time to contribute and answer occasional forum questions, please contact us.