Introducing Norway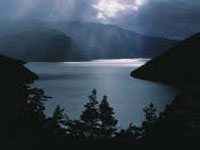 Fjord © Norwegian Tourist Board
Norway Travel Guide
Norway is a wildly beautiful country of snow-capped mountains and deep glacier-carved fjords. The astounding scenery of the southwestern fjordland is the main draw card for tourists, but there are many incentives to visit this sparsely inhabited country. It offers remote wildernesses and outdoor activities, fairylike forests, historic towns and charming fishing villages, down to earth friendly people, and the lure of the Arctic Circle with its famous Midnight Sun and surreal Northern Lights. It also boasts some of the most scenic bus trips, boat cruises and train rides in the world.
'The Land of the Midnight Sun', with its long summer days, is not only for nature lovers and outdoor enthusiasts, but offers a rich cultural heritage from the Vikings, the traditional nomadic Sami people of the remote northern regions, and world-renowned artists such as Edvard Munch. Principle cities of interest are Oslo, the pretty capital; the historic trading port of Bergen, situated on the fjords and gateway to the Fjordlands; and hilly Tromsø within the Arctic Circle, the centre of the Northern Lights activity. They are pleasant, low-key cities that offer a good range of museums, historical sights and unique architecture.
Norway's greatest impact on history was during the Viking Age, when the sleek Viking ships crossed the Atlantic, and Europe was subjected to numerous raids. Traditionally Norwegians were explorers, and their influences are evident from the Viking settlements established in Scotland, to the more recent personalities like polar explorer Roald Amundsen, and the legendary Pacific crossing of Thor Heyerdahl on his wooden raft, the Kon-Tiki (which has its own museum in Oslo).
Today Norwegians hold onto many of their cultural traditions, most notably the art of storytelling that takes place around the fireside to while away the long winter hours. Trolls figure prominently in their folklore, some friendly and helpful, while others are naughty characters that conveniently serve as a source of blame for all of life's troubles.
Best time to visit Norway
June and July is often considered the best time to visit Norway for warm weather and thundering waterfalls, while the days are especially long with sunlight until nearly 10pm; keep in mind that crowds are at their peak though. March is the best time to go skiing in Norway, and May and September offers nice weather and slightly smaller crowds. Read more on Norway's Climate and Weather.
Top things to see in Norway
-Visit the stunning Arctic Cathedral.
-Take a picnic to Vigeland Park and take in the more than 200 sculptures displayed in the park.
-Go on a train ride to Tromsø to see the Northern Lights in winter.
-Take a cruise along one of Norway's famous fjords to see spectacular waterfalls. Read more about Norway Attractions.
Top things to do in Norway
-Take a walk in Bryggen past the 14th century wooden houses, now a UNESCO World Heritage Site.
-Spend a night at the Snow Hotel in Kirkenes and mingle with other guests at the Snow Bar.
-Go hiking in the hills around former Olympic site of Lillehammer.
-Spend an afternoon ice skating on one of Norway's many free rinks. Read more about Norway Activities.
Getting to Norway
There are regular direct flights to Norway from the UK, which take only 2-3 hours. Most flights to Norway land at Oslo International Airport (OSL), however there are also airports in Bergen and Stavanger. There are no direct flights to Norway from the US, but there are many options with layovers in London or Amsterdam. Get more information on Norway Airports.
Read
The Snowman by Jo Nesbo
Watch
Asterix and the Vikings
Drink
Akvavit Listen Royksopp and A-ha
What to buy
Hand-knit woolen sweaters and socks, and silver 'Viking-style' jewellery.
What to pack
Warm clothes, even for summer when it can get chilly at times.
What's on in Norway
-Enjoy the long days and live music of the Bukta-Tromsø Open-Air Festival in July.
-The St Olav Festival in Trondheim blends religious observances with music and other festivities.
Did you know?
Wine and liquor can only be bought from special outlets called Vinmonopolet.
A final word
With its breathtaking fjords, popular ski resorts, and quaint historical cities, a holiday in Norway is fascinating at any time of year.
Become our Norway Travel Expert
We are looking for contributors for our Norway travel guide. If you are a local, a regular traveller to Norway or a travel professional with time to contribute and answer occasional forum questions, please contact us.