Introducing Palau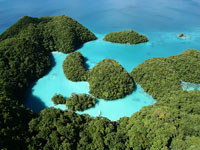 Milky Way © LuxTonnerre
Beautifully positioned in the Pacific Ocean about 500 miles (804km) east of the Philippines, the exquisite islands and atolls of Palau's crystalline waters are dotted with underwater caverns and natural reefs. Boasting more than 700 species of corals and 1,500 species of fish, Palau has earned the reputation of an underwater wonder of the world - attracting around 50,000 visitors a year to its scuba diving paradise.
Steeped in a fascinating history dating back to 1000 BC, Palau was discovered by shipwrecked English Captain Henry Wilson in 1783 and was later controlled by the Japanese during World War II, where one of the bloodiest battles of the war took place on the island of Peleliu. Today, this island houses a World War II Memorial Museum where visitors taking a break from diving can tour the battlefields, tanks, artillery, and shrines.
Palau is a relatively safe country, but as with anywhere in the world, travellers should arm themselves with good common sense. Health facilities in Palau are adequate for routine medical care, but limited in availability and quality. Dengue Fever occurs in Palau with the last reported case in 2008. Travellers should use plenty of mosquito repellent and other malaria prophylaxis as well as making sure they have comprehensive medical insurance.
For those looking for relaxing and exotic holiday Palau offers sugary white beaches, turquoise waters, warm, sunny days and a plethora of activities from swimming, game fishing, kayaking, dolphin watching, snorkelling, and sailing. A slice of heaven awaits those who decide on a visit to Palau.
Become our Palau Travel Expert
We are looking for contributors for our Palau travel guide. If you are a local, a regular traveller to Palau or a travel professional with time to contribute and answer occasional forum questions, please contact us.