Regions
Colon Port of Call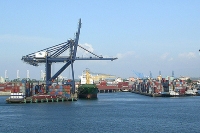 Colon, Panama © Roger W
Poised as the next big cruise embarkation port at the north Caribbean entrance to the Panama Canal, Colon is a sprawling industrial city within close proximity to beautiful jungle landscape and the wonders of the Canal. Of course, the most popular sites from Colon are the nearby Panama Canal itself including the impressive raising and lowering of ships in the Gatun Locks, including one's own, and the immense man-made Gatun Lake.
Colon is attractive to cruise ships in part because of the Colon 2000 cruise terminal, allowing berths for several large ships and more than 2,500 passengers at once. The terminal offers a variety of shops but is a bit removed from the centre of downtown Colon. Some cruise ships dock at Cristobal Pier which has its own shopping terminal. Cruising to Colon offers travellers the chance to explore off-the-beaten-path areas of Panama that are out of reach of Panama City.
---
Contact
Tel: 507 447 3197
Email: info@colon2000.com
Website: www.colon2000.com
Address: There is a tourist office at the Colon cruise terminal building.
Transport
Tour groups often ride the train from Colon to the visit the Gatun Locks which is the most beautiful route. Taxies can be hired from Colon 2000 and Cristobal with pre-set fares, and are considered safer, although the local bus is cheaper for longer excursions.
Attractions
The largest locks in the Canal are a short distance from Colon and offer great opportunities to see both the rising and lowering ships as well as the mechanics behind the operation. A bit farther into the canal is the Gatun Lake which can be fun to explore in smaller boats and kayaks or use for water activities like snorkelling and swimming. Many activities in Gatun lake can be arranged from Colon 2000 Terminal or from Cristobal.
Restaurants
Restaurante Arrecifes - great seafood right in the port
Grand Cafe - the best Middle Eastern food in Colon
Club Union Arabe - an elegant restaurant with sea views
Best Dish
Seafood soup
Shopping
The Colon Free Zone is the world's largest free trade zone. There are a number of shopping malls that vary in selection and price, but consumer electronics, clothing and cosmetics are usually good buys. You can find local handcrafted items and popular Panama souvenirs such as carved tagua nuts and cocobolo, and woven palm-fiber baskets at local artesania markets.
Best Buy
Duty-free luxury goods
Excursions
Visit Panama City
Explore Portobelo
Take a Chagras River trip
Become our Panama Travel Expert
We are looking for contributors for our Panama travel guide. If you are a local, a regular traveller to Panama or a travel professional with time to contribute and answer occasional forum questions, please contact us.