Regions
Cristóbal Port of Call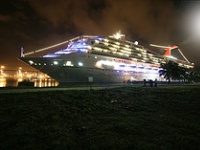 Cruise ship in Panama Cnaal ©
Located on the Atlantic side of the Panama Canal in the province of Colón, Cristóbal is the world's largest Free Trade Zone outside of Hong Kong.
Named after the discoverer of the Americas, Cristóbal Colón is the Spanish translation for Christopher Columbus. Many cruise ships passing through the Panama Canal enter the locks and are raised up to Gatun Lake where passengers disembark for their shore excursions, then berth for a few hours in either Cristóbal or Colón to pick up the passengers and be on their way.
Not really much to look at, the old dock wharf of Cristóbal has a little shopping area and a few bars to sample some of the local brews as well as places to sample Panamanian food. There is usually an Embera Indian group who perform traditional dances in the food court area to entertain passing visitors.
---
Contact
Phone +57 226 7000
Website: www.visitpanama.com
Transport
Almost everything in the port of Cristóbal is within walking distance. There is not much outside of the port and Colón is not an area that ship passengers would enjoy wandering around.
Attractions
There are many things to see and do in Cristóbal. Take a walk through the old quarter of Panama City, watch a ship go through the Panama Canal, or visit the tropical rain forests of Darien. Fishermen will love the world-class deep-sea fishing opportunities off the shores of Cristóbal as well as the fantastic scuba diving. History buffs will enjoy a visit to the colonial villages of the Azuero peninsula while sun worshippers will find paradise in the gorgeous beaches of the Archipielado de las Perlas.
Restaurants
Most restaurants are located in Colón but there are a few small eateries around the wharf area in Cristóbal.
Best Dish
Ceviche (fish marinated in lime juice, onions and peppers)
Shopping
Being a duty-free shopping hub, Cristóbal offers plenty of stores selling clothing, perfume, pharmaceuticals, sportswear, electronics and designer names. Many Indians sell their wares in the wharf of Cristóbal, touting everything from Embera hand woven baskets, Cuna Indian molas (fabric designs made from various colours of cloth), Tagua carvings and shell and silver jewellery.
Best Buy
Panamanian rum, Panama hats
Excursions
Go deep-sea fishing
Go scuba diving
Explore San Blas Islands
Relax on the beaches of the Archipielado de las Perlas
See the mountain resorts of Chiriqui
Become our Panama Travel Expert
We are looking for contributors for our Panama travel guide. If you are a local, a regular traveller to Panama or a travel professional with time to contribute and answer occasional forum questions, please contact us.