Introducing Papua New Guinea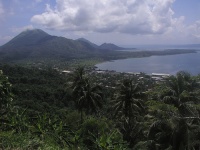 Papua New Guinea landscape © Nickaroundtheworld
To say Papua New Guinea (PNG) is remote would understate its degree of isolation. The nation stretches across half of the mountainous island of New Guinea it shares with Indonesia, to the jungle lowlands and dozens of islands out to the Pacific. Papua New Guinea's diversity means two trips can never be the same, so travelers are welcome to explore their own piece of this wild land.
Hundreds of different cultures are evident in a relatively small amount of land. Communities have replicated the effect of isolated evolution and cultures have grown into wild forms. As evidence of the drastic isolation, some mountain communities have only just discovered neighbouring tribes, despite living in close proximity for thousands of years. Some communities may still have had no contact with the outside world. Even Port Moresby, PNG's capital and largest city, has no roads connecting it to other major towns. Such drastic separation has fostered more than 800 languages and a multitude of diverse customs and cultures. Yet the nation is unusually unified in religion as Christian missionaries have converted 96 percent of the country.
With almost no connecting paved roads, air travel is mandatory for getting around the country, even though there are only four paved runways. Airplanes flying over the jungle were worshiped in 'cargo cults' for years, especially in World War II. Locals would watch mesmerised at new airport runways as their spirits descended from the heavens. Airline safety has apparently not improved since and travellers wanting to avoid prematurely turning into spirits themselves should review recent airline safety information.
Intrepid travellers take to the jungle and mountains on foot. The most famous route in the country is the Kokoda Track, a 60-mile (96km) hike popular with Australian tourists. The region it covers saw intense fighting between Japanese and Australian forces in World War II. Highland trekking is also a tempting but dangerous. The mountain isolation is extreme and fighting between tribes can endanger tourists. Yet for the undeterred July through August is the best time to visit Papua New Guinea. Surfers can best hit the waves from November to April in northern areas like New Ireland, and June to September in the south.
Become our Papua New Guinea Travel Expert
We are looking for contributors for our Papua New Guinea travel guide. If you are a local, a regular traveller to Papua New Guinea or a travel professional with time to contribute and answer occasional forum questions, please contact us.