Regions
Introducing Paraguay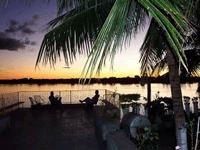 Sunset in Concepcion © Secretaria Nacional de Turismo
The 'forgotten' country, Paraguay sits landlocked between South America's tourist favourites of Brazil, Argentina and Bolivia, and is generally overlooked by all except the most intrepid travellers and eco-tourists.
Paraguay is unique in South America in that it largely resisted the cultural devastation wrought by the Spanish conquistadors and has retained its native pre-Colombian culture among its Guarani people. Since becoming a republic in 1811 a series of dictatorships have marred its progress, but today Paraguay has a relatively peaceful democracy and is fairly prosperous thanks to its thriving agricultural economy.
Those who take the trouble to fly into the capital, Asuncion, will find a large, relaxed city full of Latin American atmosphere and historical interest. The city's rich 450-year history is reflected in the downtown architecture, including the Cathedral, as well as some modern marvels like the beautiful Lirico Theatre, dozens of night spots, vast shopping malls and some excellent hotels and restaurants.
Rivers are the lifeblood of this country, which has no railways, and a popular trip for tourists is to take a scenic cruise from Asuncion to Concepcion, a town about 130 miles (210km) north of the capital, and back, along the wide, lazy River Paraguay. The more adventurous make expeditions to the western Chaco region, where some fascinating German Mennonite communities and indigenous Guarani people still live as they have for centuries, and hundreds of species of flora and fauna can be discovered among the marshes.
Paraguay is a travel book still to be written, and a country full of treasures yet to be showcased, but those who enjoy exploring unspoilt wilderness without much in the way of modern amenities or tourist infrastructure will find a holiday in Paraguay a truly memorable experience.
Become our Paraguay Travel Expert
We are looking for contributors for our Paraguay travel guide. If you are a local, a regular traveller to Paraguay or a travel professional with time to contribute and answer occasional forum questions, please contact us.