Introducing Peru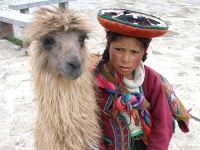 A girl and her llama in Peru © Thomas Quine
Peru Travel Guide
Peru packs much of what travellers find great and good about South America. Fine beaches, soaring peaks, ancient ruins, remote jungles, colonial towns and traditional cultures all feature, meaning visitors are in line for a wonderfully layered holiday.
Adventure lovers can hike to the 'Lost City of the Incas', Machu Picchu, or sail the world's highest navigable body of water, Lake Titicaca. They can also venture to the lush and steamy Peruvian Amazon, which is home to an incredible amount of biodiversity. Visitors can expect to see anything from tropical flowers to howler monkeys, to majestic jaguars. Travellers can arrange tours to eco-friendly jungle cabins from Iquitos and Puerto Maldonado.
On the sightseeing front, visitors should include the mysterious Nazca Lines, the impressive Colca Canyon and the wildlife-rich Ballestas Islands on their lists. The capital, Lima, boasts some fine Spanish-colonial architecture and a restaurant scene of international repute.
Best time to visit Peru
The most-active tourist season runs from May to October, and it peaks in July and August. Winter (June to September) is the best time for the Inca Trail, given the wonderful visibility travellers can expect during clear, sunny days. This is also a good time to visit the Amazon basin, as there are fewer mosquitoes and the animals stay closer to the water, making them easier to spot.
Read more on Peru's Climate and Weather.
What to see in Peru
- Manu National Park, located in the isolated Amazonian region of Madre de Dios, is the best place to see tropical wildlife in Peru.
- Huacachina is an increasingly popular desert resort village. Built around a natural lake, it offers fun, dune-related activities like buggy rides and sandboarding.
- Manorca boasts fine beaches and good surfing conditions, and is a famous stop on the South American backpacking trail.
- Lima has a slightly seedy reputation, but is home to some great museums and awe-inspiring cathedrals. Its restaurant scene is to be savoured.
Read more about Peru Attractions.
What to do in Peru
- The Inca Trail, a rewarding hike to the legendary ancient city of Machu Picchu, is an absolute must for first-time visitors to Peru.
- Cruise the waters of Lake Titicaca.
- See the Nazca Lines, a series of ancient geoglyphs whose origin and purpose remain a mystery to this day.
- Hike through the Colca Canyon, a spectacular gorge where enormous Andean condors soar overhead.
Read more about Peru Activities.
Getting to Peru
Cheap flights to Peru are easy to find from the UK and US. Direct flights to Peru are widely available from US cities, while visitors from the UK might have to book a connecting flight to Peru. The flight time to Lima is about 20 hours from most North American and European destinations.
Get more information on Peru Airports.
Read
The Conquest of the Incas by John Hemming and Aunt Julia and the Scriptwriter by Mario Vargas Llosa.
Watch
The Dancer Upstairs (2002) and Touching the Void (2003).
Eat
Anticuchos (kebabs made from marinated beef heart), ceviche (raw fish marinated in lime juice), or - for the adventurous - the Andean delicacy cuy (guinea pig).
Drink
Pisco Sour, a drink made from the unique grape brandy of the region, and emoliente, a viscous herbal tea.
What to buy
Brightly-dyed alpaca woollen products, carved figurines, jewellery and traditional musical instruments like pan flutes (zamponas) and skin drums.
What to pack
Visitors who are attempting the Inca Trail should pack warm clothes and good quality, worn-in walking shoes. Anyone who plans to spend some time in the Amazon should pack lightweight (and preferably long-sleeved) garments and effective mosquito repellent.
What's on in Peru
The Lord of the Miracles Festival (October) is the most spectacular of Peru's religious festivals, and sees tens of thousands of participants dress in bright purple tunics. The annual 24-hour procession through Lima honours the venerated image of a black Christ, which was allegedly drawn by an Angolan slave on a wall in colonial times. The image has survived all attempts to erase it, including an earthquake in 1746, which levelled all surrounding buildings.
Travellers who visit in March can experience the Fiesta de la Vendimia de Surco. The wine festival is held in celebration of the grape harvest, and features fascinating cultural performances.
Peruvians celebrate the anniversary of their independence from Spain on 28 July. The occasion is met with patriotic gusto throughout the country, but particularly in Lima, where a great deal of dancing, flag flying, and folk music fills the city's parks and plazas.
Did you know?
- Avocado pears (palta) are originally from Peru.
- The Peruvian root known as Huanarpo Macha is what Viagra is made from.
- There are more species of bird in Peru (1,700) than in any other country.
A final word
Famous Machu Picchu is only one of the wonders that adventurous explorers will find in beautiful and mysterious Peru.
Become our Peru Travel Expert
We are looking for contributors for our Peru travel guide. If you are a local, a regular traveller to Peru or a travel professional with time to contribute and answer occasional forum questions, please contact us.