Cities
Regions
Ski Resorts

---
Introducing Romania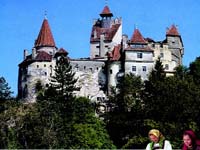 Bran (Dracula's) Castle © Romanian National Tourist Office
Romania is a surprising and mesmerising destination; with seven of its monuments listed as UNESCO Patrimony, its magnificent landscapes, as well as its vivid culture, Romania will leave visitors wanting more from this astonishing country.
The country has slowly emerged from the effects of being one of the most repressed countries under communism, but it is rapidly regaining its identity as a popular tourist destination and has plenty to offer the international traveller. Travel in Romania is rewarding; there are many sites which come with charisma and charm.
The country's geography is diverse: from mountains, rolling hills and rural farmlands to white sandy beaches and resorts along the Black Sea Coast. Dotting the natural landscape are rustic villages where local people live as they have done for the past 100 years. There is an abundance of religious architecture - including the exquisitely painted monasteries of Bucovina - and there are ancient churches and cities bursting with historic architecture. The capital city, Bucharest, is re-inventing itself and its damaged architecture is slowly being restored to its original glory. It has elegant restaurants, a revitalised nightlife and cultural attractions that are becoming integral to this new image.
A visit to Romania will leave few impassive, offering a refreshingly different culture to elsewhere in Europe. The mix of quaint medieval towns and castles, drab cities striving for Western modernism, and the diverse rural landscape seemingly untouched by modern history, offers a fascinating kaleidoscope of opportunities to explore. Romania appeals to visitors because it is so different. It has one foot firmly placed in the past while the other one is stretching forward in an effort to keep up with the progress of the modern world.
Become our Romania Travel Expert
We are looking for contributors for our Romania travel guide. If you are a local, a regular traveller to Romania or a travel professional with time to contribute and answer occasional forum questions, please contact us.
Planning a Romania holiday? Get off the beaten track with tour operator Intrepid Travel.
ADVERTISEMENT
---