Regions
Introducing Rwanda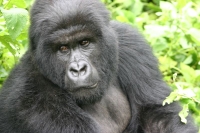 Gorillas in Rwanda at the Volcanoes National Park © Derek Keats
'Land of a Thousand Hills' (Pays de Mille Collines), as it is popularly known, Rwanda is a small, verdant country in central Africa. The rolling hills of Rwanda are dotted with tea plantations, rugged mountains and towering volcanoes, with the shimmering Lake Kivu in the west.
Sadly, this beautiful country is best known to the world for the horrific genocide of 1994, when something like 800,000 Rwandans were slaughtered in the space of about three months. This massacre was the result of long-standing ethnic tension between the minority Tutsis and the Hutus. Rwanda is today a very peaceful African country but it has had to work hard to combat the memory of the genocide and portray itself instead as an unspoilt, scenically stunning destination that is rich in culture and wildlife, boasting fine food and one of the friendliest welcomes in Africa. Luckily the world is catching on to the advantages of this African gem and tourism is on the rise.
The rapidly growing city of Kigali, situated at Rwanda's geographical heart, is not only the capital but also the country's most important business centre and the main point of entry. While it is not a tourist hot spot, it is the hub of just about everything Rwandan and worth a quick exploration for travellers arriving from overseas. However, the real appeal of the country can be discovered outside of urban areas, with explorations of the lush national parks. The most popular activity for tourists in Rwanda is gorilla trekking and meeting these gentle giants in their natural habitat is widely acknowledged to be one of the most profound wildlife experiences in the world.
A picturesque country with an incredible people and interesting history, Rwanda is one of the most fascinating travel destinations in Africa.
Our Travel Expert
Miriam is a travel blogger, tourist guide and the owner of Kagera Safaris Ltd, a company committed to offering travellers to East Africa 'Memorable African Expressions'. She is passionate about community development, photography and travel.
>Read Miriam's tips on Rwanda
>Ask Miriam a question
---
Become our Rwanda Travel Expert
We are looking for contributors for our Rwanda travel guide. If you are a local, a regular traveller to Rwanda or a travel professional with time to contribute and answer occasional forum questions, please contact us.
---
Africa Miracles specialises in tailor-made holidays to Rwanda. Travel to the website and find information on Rwanda and suggested itineraries.
ADVERTISEMENT
---