Introducing Sao Tome And Principe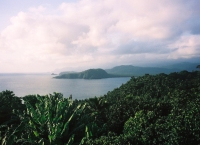 Sao Tome and Principe © Maria Cartas
The remote island nation of São Tomé and Príncipe in the Gulf of Guinea is a land filled with natural resources and breathtaking scenery, but far removed from mass tourism. From volcanic peaks to underwater caves, São Tomé and Príncipe is the perfect destination for an exotic holiday in paradise.
These two archipelagos form Africa's second-smallest country after the Seychelles, that were both uninhabited before the Portuguese arrived in the 15th century. Travellers should head to the colonial capital of São Tomé to admire the distinctive architecture and enjoy the cooling sea breeze, or visit the fortress museum at Sao Sabastiao to discover colonial art and religious artefacts.
Trek through unspoilt rainforests and explore the waterfalls, laze on sandy beaches while palm trees rustle overhead, or dive and snorkel in turquoise waters. Visitors can appreciate the islands' natural biodiversity by doing some bird-watching, or by visiting the turtle-nesting grounds at Obo National Park and the Boca do Inferno Blowhole.
Savour the islands' Portuguese-Creole culture and enjoy the local island flavours by feasting on delicious seafood, fresh fruit, and some of the world's finest coffee. Visit the colourful Sao Tome market, or one of the many old plantations, where slaves once toiled to produce cocoa, coffee and sugar.
With only a handful of tourists arriving per week, visitors can be sure to enjoy a slice of tropical heaven well off the beaten track.
Become our Sao Tome And Principe Travel Expert
We are looking for contributors for our Sao Tome And Principe travel guide. If you are a local, a regular traveller to Sao Tome And Principe or a travel professional with time to contribute and answer occasional forum questions, please contact us.