Introducing Senegal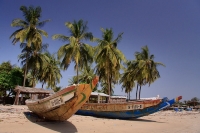 Boats on the beach, Senegal © Angel Hernansaez
Located on the northwestern bulge of Africa, at the continent's most westerly point, the small Republic of Senegal sits on the Atlantic Ocean between Guinea-Bissau and Mauritania, with another country, Gambia, almost entirely enclosed within it.
The sun shines almost all year round on hundreds of miles of beautiful beaches, estuaries, mangrove swamps, savannah and a semi-desert in the north. The Casamance region, a strip of land stretching from east to west across the country below The Gambia, boasts some of the best beaches in West Africa, and is one of the most touristic parts of Senegal. Here tourists experience a vision of tropical splendour with lush forests, coconut palm groves, brilliant flame trees and bougainvillea, as well as warm waters brushing the endless stretches of sandy beaches. Hotels bordering the beaches make coastal Casamance a holiday paradise for visitors.
The modern capital city of Dakar, situated on the tip of the Cap Vert peninsula, is a vibrant hive of local and international activity. Here businessmen rub shoulders with tourists, but visitors will also find traditionally dressed Senegalese amid the confusion of gleaming hotels, cafes, colourful open-air markets and the medina (old quarter). Just two miles (3km) offshore lies Gorée, an island that was the most important slave depot in West Africa between the 16th and 19th centuries.
Not only does Senegal offer seaside resorts, a fascinating history, and a modern business infrastructure, but there are also national parks rich in flora and fauna, excellent scuba-diving and fishing opportunities, a diversity of cultures and customs, and a warm welcome by its people who adhere to the traditional values of respect for others, good manners and hospitality.
Become our Senegal Travel Expert
We are looking for contributors for our Senegal travel guide. If you are a local, a regular traveller to Senegal or a travel professional with time to contribute and answer occasional forum questions, please contact us.