Introducing Somalia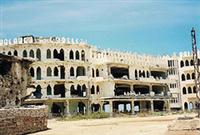 Shattered hotel, Mogadishu ©
Even before its current state of anarchy, Somalia was not somewhere people were rushing to visit. The terrain is mostly desert, the climate uniformly hot and rainfall irregular at best. Now however, it is completely off-limits, not only to travellers, but hardy NGO workers, soldiers and gung-ho backpackers as well.
In fact, given the almost total disorder prevailing here, the complete absence of government, and frequency of ambushes, murders, kidnappings and intermittent faction fighting, this is the one country on earth travellers should leave off their itineraries.
The capital, Mogadishu, has the distinction of being the most lawless city on earth. Its former colonial edifices are now reduced to pockmarked husks, its busy streets devoid of activity, and its tormented, famously industrious people engaging in only the most rudimentary commerce. On the plus side, Mogadishu is the only place in the country with reliable internet access.
Since 1991 Somalia has effectively been divided into three separate states: Somalia to the south, the independent state of Somaliland in the middle, and Puntland to the north. Of the three, Somaliland is the only destination with a proper administration and some sense of peace and stability.
Somalia has recently achieved notoriety by hosting the single biggest upsurge in piracy since Blackbeard learned to sail. Centred on the remote port of Eyl, the Somalia pirates are a law unto themselves, hijacking ships for ransom and governing their region with total impunity.
One day peace will come to this tragic part of the world. When it does, tourists will experience the thrill of a virtually undiscovered destination. There are 3,000km (1,864 miles) of beaches, fabulous corals and mountains to see; world-class Neolithic rock paintings and astounding scuba diving at Las Geel; plus the unique Somali culture with its warm welcome and tasty food.
Become our Somalia Travel Expert
We are looking for contributors for our Somalia travel guide. If you are a local, a regular traveller to Somalia or a travel professional with time to contribute and answer occasional forum questions, please contact us.