Introducing St Helena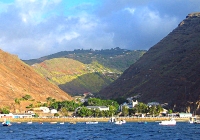 Jamestown, St Helena © Mejuto
A volcanic island rising out of the South Atlantic Ocean, the British territory of Saint Helena is one of the most isolated islands in the world, located 1,200 miles (nearly 2,000km) from the west coast of Africa with Ascension Island, 703 miles (1,131km) away, its nearest landmass. Ascension Island is one of its dependencies along with Tristan da Cunha.
Despite its small size and remote location, St Helena has been described as a 'beautiful emerald set in bronze', with its lush subtropical forests and rolling hills almost entirely enclosed by sheer volcanic cliffs. Instead of bright lights, sandy beaches and shopping, the island offers tranquil beauty, and 19th century values imbued with 300 years of colonial history. Chief attractions include the island's Napoleonic history, the endemic Wirebird and various plants, Jonathan the ancient Giant Tortoise, and the Tungi distillery.
The Saints, as the islanders are called, are friendly and charming, a mixture of descendants from British settlers, African slaves and contracted workers from the East.
St Helena was discovered by the Portuguese in 1502, and lying directly in line with the trade winds that took ships rounding the southern tip of Africa into the South Atlantic, it soon became a preferred stopover for its supplies of fresh water and fruit trees, and a rendezvous point for homebound voyages from Asia. It became a British dependency in 1834 and for many years was used as a place of exile, most famously for Napoleon after his defeat at the Battle of Waterloo. Tourism promotes the life of Napoleon on the island where he lived in Longwood House for six years until his death in 1821, and the residence is now a museum owned by the French government. The island was also a prison during the Anglo-Boer war in South Africa, and King Dinuzulu and 6,000 Boer prisoners were held there from 1900 to 1904. The Boer Cemetary, located at Knollcombes, is a popular attraction from this period.
St Helena's capital and only town is the Georgian seaport of Jamestown, nestled between towering cliffs and protected from the sea by 18th-century fortifications. The town's most prominent feature is Jacob's Ladder, 699 steps embedded into the near vertical cliffs that connects the valley floor to the top of Ladder Hill. It is popular with tourists, as well as runners who come from around the world to compete in the timed run every year. Other attractions in St Helena include the Heart-Shaped Waterfall, the castle and its gardens, Sandy Bay, and the Central Peaks. St Helena has no airport, though plans are in place to construct one, and can currently only be reached by ship.
Become our St Helena Travel Expert
We are looking for contributors for our St Helena travel guide. If you are a local, a regular traveller to St Helena or a travel professional with time to contribute and answer occasional forum questions, please contact us.