Ports of Call

---
Introducing St Kitts And Nevis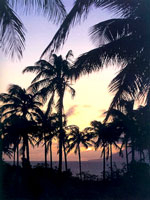 Sunset ©
The twin-island nation of St Kitts and Nevis, situated in the Leeward Islands of the eastern Caribbean, is shaped rather like a tennis racquet and ball - the larger St Kitts is separated from its ball-shaped southern counterpart, Nevis, by a two-mile (3km) channel called The Narrows.

At first glance, the small, sleepy islands appear to be forgotten in time: a pair of quiet, lush and natural islands that convey nothing of their former prosperity and turbulent history. From their wealthy position as the most illustrious sugar colony in the Caribbean in the early 18th century they became the centre of conflict, as European powers fought for control of the islands, and the surrounding waters were an irresistible attraction for pirates who lay in wait for the riches transported on the merchant ships.

Today the population consists mainly of descendants from the slaves who were shipped from Africa to work the sugar plantations; and vestiges of splendid estates are all that remain as a reminder of the infamously profligate way of life of the rich and famous of days gone by.

St Kitts and Nevis have become the tourist pearls of the Caribbean, valued today more as a tropical paradise than a major sugar producer, with clear and inviting waters, sandy beaches and a natural splendour to stun even the most avid city-slicker. Together with a diverse range of activities, historical sites, and the charm of their two capital harbour towns, the volcanic islands are a seductive blend of colour, sunshine and luxurious relaxation.
Become our St Kitts And Nevis Travel Expert
We are looking for contributors for our St Kitts And Nevis travel guide. If you are a local, a regular traveller to St Kitts And Nevis or a travel professional with time to contribute and answer occasional forum questions, please contact us.