Regions
Ports of Call

---
Introducing St Maarten And St Martin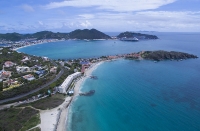 Lake Gunn, South Island © Jocelyn Kinghorn
Visiting St Maarten and St Martin is a unique experience. The eastern Caribbean island is divided between two sovereign states (France and the Netherlands) with an unpoliced border cutting through its southern portion. Visitors can sunbathe in French St Martin in the afternoon, and stroll over to dine in Dutch St Maarten in the evening.
The French and the Dutch have shared this Caribbean gem peacefully for more than 350 years, ever since (as legend has it) a gin-drinking Dutchman and wine-imbibing Frenchman walked around the island to see how much territory they could claim for their country in a day. The Frenchman gained two-thirds of the island, but the Dutch maintain that their representative claimed the most prized part of the territory.
The Dutch portion is in the south, with the capital Philipsburg known to be a duty-free shopping paradise that draws thousands of tourists every day of the year. Dutch St Maarten arguably has the best (certainly the most developed) beach resorts, clustered along the southwest coast near the island's international airport. French St Martin is less developed, but more scenic and just as popular as a holiday destination.
The island is renowned for being the gourmet capital of the Caribbean and for its energetic nightlife, mostly centred on the island's 35 enticing white sand beaches. The small island's main attractions are shopping, relaxing on the beach or swimming in the clear turquoise waters. There is little of historic, cultural or architectural interest, but a few impressive old forts can be explored.
Become our St Maarten And St Martin Travel Expert
We are looking for contributors for our St Maarten And St Martin travel guide. If you are a local, a regular traveller to St Maarten And St Martin or a travel professional with time to contribute and answer occasional forum questions, please contact us.