Cities
Ports of Call

---
Introducing St Maarten And St Martin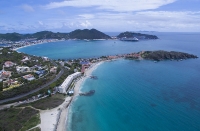 Lake Gunn, South Island © Jocelyn Kinghorn
Tucked away in a small corner of the Caribbean lies the island of Sint Maarten and St Martin, the world's smallest area of land divided into two nations. The French and Dutch have shared this strip of paradise peacefully for more than 350 years, ever since (as legend has it) a gin-drinking Dutchman and a wine-imbibing Frenchman walked around the island to see how much territory they could claim for their country in a day. The French won more land, but the Dutch lay claim to the most prized part.
The Dutch may well have a point. Sint Maarten is known for its beaches, local rum-based liquors, casinos and festive nightlife. Duty-free shopping is the order of the day for tourists pouring out of the numerous condos and resorts. Those who find this all too overdeveloped and artificial can get a taste of a different side of the Caribbean on the quiet, picturesque beaches of Simpson Bay and Little Bay. Visitors who are looking for a more rugged holiday would do well to head north to the French side of the island.
St Martin is significantly quieter than its Dutch counterpart. The French side of the island is a lovely mix of white-sand beaches, small town centres, and beautiful stretches of mountainside. Shopping is a more relaxed affair at the outdoor markets, and some of the finest Caribbean cuisine is on offer.
The island as a whole hosts 120 different nationalities, giving it a rich cultural heritage. Food, drink and friendly Caribbean hospitality are all on the agenda. Visitors can also enjoy snorkeling, diving, and jet-skiing, or head inland to hike in the mountains or zip-line through the tree tops.
Become our St Maarten And St Martin Travel Expert
We are looking for contributors for our St Maarten And St Martin travel guide. If you are a local, a regular traveller to St Maarten And St Martin or a travel professional with time to contribute and answer occasional forum questions, please contact us.