Regions
Introducing Sudan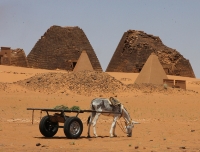 Nubian pyramids of Meroe © joepyrek
'Bilad al-Sudan', or 'land of the blacks', is not a country to visit for remarkable tourist sites, but rather for those curious to meet the wonderfully hospitable people or interested in experiencing a culture far removed from most Western societies.
In the north, the Nubian Desert forms a large part of the country, where huge wetted clay water pots are located under every tree or shady shelter for drinking, whereas the narrow strip of land following the length of the Nile River, in contrast, is green and agricultural. The south is characterised by swamps and rainforest. Desert towns have wide, dusty roads, which remain empty for the main part of the day due to the heat. In the evenings, however, streets come alive with movement and colour, the women's vivid wrap-around clothing and hennaed fingers standing out from the crisp, white kaftans and turbans of the men.
Sudan has been afflicted by violent civil wars for nearly half a century, and more often than not makes headlines on most international news broadcasts. Yet outside these conflict areas the country is generally safe to travel in, and those who get there will be treated with extreme courtesy and friendliness. The Sudanese take Arabic hospitality very seriously and it is unlikely that a traveller will pass by without an invitation to share in a meal or to visit someone's home.
Torn into Northern and Southern Sudan by cultural and religious disputes, it is the north that occupies the largest area and includes most of the urban centres, including the capital, Khartoum. The largely Muslim, Arabic-speaking population of this area are proud of their country and will take great delight in showing it off. For those in search of what Sudan has to offer, the peaceful capital at the junction of the White and Blue Niles, and its sister city Omdurman, are good places to begin, with the National Museum, a large souq (covered market), camel market, and the Tomb of the Mahdi. To the north of Khartoum are the ruins of the Royal City of Meroe as well as the pyramids in which the kings are buried. Kassala to the east boasts a wonderful souq known for its local variety of fruit and silver jewellery, and a desert landscape dominated by jebels, or hills. The war-torn south is largely rural and lacking in infrastructure, and holds little of interest for the international visitor.
Become our Sudan Travel Expert
We are looking for contributors for our Sudan travel guide. If you are a local, a regular traveller to Sudan or a travel professional with time to contribute and answer occasional forum questions, please contact us.