Regions
Introducing Suriname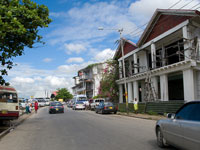 Paramaribo Street © aokettun
Boasting some impressive natural attractions, Suriname's sparse savannah is interrupted by verdant rainforests teeming with exotic wildlife, while at least five mountain ranges tower above this mysterious land. Yet, it remains a commonly-overlooked destination and most who come here are armed with mosquito repellent, a Dutch dictionary and a sense of adventure.
The Central Suriname Nature Reserve in the upper Coppename River divide is not only a UNESCO World Heritage Site, but is also one of the most popular reserves in the country, along with the Brownsberg Nature Park. Suriname is popular with eco-tourists who come to marvel at the biodiversity of the pristine Amazonian rainforests along the Brazilian border.
The historic inner city of Paramaribo, the capital of Suriname, is also a UNESCO World Heritage site. Paramaribo contains beautiful colonial architecture and is a great place for any travellers to start exploring. Take a walk in the Maagdenstraat and buy some handcrafted jewellery, head to the Sunday flea market to pick up some souvenirs, and enjoy a picture-perfect sunset with an ice-cold beer at the Waterkant (waterfront).
Known for its torrid political history, Suriname has been ruled by a democratically-elected government since 1991. The crime level is relatively low, but the usual rules apply to those visiting foreign countries with regards to exercising a bit of caution and common sense. Malaria and Dengue fever are common throughout most of the country, and visitors should make sure they have comprehensive medical insurance and are up to date with their vaccinations.
It may be off the beaten track, but the memory of Suriname is one that will be relived for years to come by those who visit here.
Become our Suriname Travel Expert
We are looking for contributors for our Suriname travel guide. If you are a local, a regular traveller to Suriname or a travel professional with time to contribute and answer occasional forum questions, please contact us.