Cities
Introducing Sweden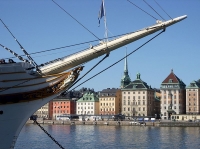 Stockholm, Sweden © Holger.Ellgaard
Sweden Travel Guide
The land of the ancient Vikings and the Girl with the Dragon Tattoo, Sweden has a split personality according to the seasons. In the summer, idyllic weather allows tourists and locals alike to enjoy outdoor activities like hiking, swimming and other sports late into the evening, as the Midnight Sun shines until nearly 11pm. However, a winter holiday in Sweden is full of other kinds of activities, like dog sledding, ice fishing, skiing and snowshoeing, as the bitterly cold weather brings icy wind, deep snow and long dark nights.
Sweden's obsession with the outdoors is only one aspect if the country's personality, however; millions of visitors enjoy the sophisticated cultural delights of the cities, especially in the capital of Stockholm. With a proud history going back several millennia, the many museums and royal buildings around the city are fascinating to visit. Stockholm's modern attractions are just as engaging, with a lively nightlife, and a plethora of excellent restaurants and shops.
But Stockholm isn't the only city in Sweden worth visiting. Smaller towns like Gothenburg, Malmö, Uppsala and the northern Kiruna all offer unique attractions for tourists in Sweden, ranging from amusement parks to historical churches and boat tours of the archipelagos in the Baltic Sea.
Best time to visit Sweden
The best time to visit Sweden is during the mild summer months (May, June and July), when the famous Midnight Sun shines until at least 10:30 at night and the weather is warm and pleasant. Keep in mind, however, that July is peak tourist season in Sweden, and popular areas can become crowded. Travelling to Sweden in August is a good way to save money, as the flights and accommodation are slightly cheaper and the weather is still pleasant for outdoor activities. The weather in Sweden varies dramatically, with bitterly cold winter months (November to March), although Stockholm stays fairly temperate due to coastal currents. Read more on Sweden's Climate and Weather.
What to see in Sweden
-Witness Sweden's famous Midnight Sun in Kiruna.
-Visit the historic open-air museum at Skansen.
-Venture north to see the Northern Lights.
-Explore the island of Gotland. Read more about Sweden Attractions.
What to do in Sweden
-Learn about the millennia of history at the ancient village of Gamla Uppsala.
-Take a boat tour of the Stockholm Archipelago.
-Ride the rollercoasters at Liseberg Amusement Park.
-Spend a night in the famous Ice Hotel in Jukkasjärvi.
Getting to Sweden
Getting to Sweden from the UK is easy due to a large number of direct cheap flights to Stockholm from London and other major UK cities. There are also direct flights from a few US cities to Stockholm. Most flights to Sweden land at Stockholm-Arlanda International Airport, 28 miles (45km) north of Stockholm. Get more information on Sweden Airports.
Read
The Girl with the Dragon Tattoo by Stieg Larsson and Pippi Longstocking by Astrid Lindgren.
Listen
Movitz! and Folk och Rackare.
Watch
The Girl with the Dragon Tattoo (2009).
Drink
Fruit soup and Glögg (mulled wine).
Eat
Gravlax (salt-cured salmon) or lutefisk (fish cured in lye) and beef stroganoff.
What to buy
Dala Horse statuettes and blown glass.
What to pack
Very warm clothes, including boots, a hat and thick gloves are needed for a winter holiday in Sweden, while a summer holiday usually requires sturdy walking or hiking shoes.
What's on in Sweden
Stockholm celebrates each December as the Nobel Prize Day presents its awards to outstanding scientists and authors. All over Sweden, people take the time to enjoy the idyllic weather and have a party on Midsummer's Eve. More information on Events in Sweden.
Did you know?
-The population of Sweden is about 9.5 million, which is marginally more than the population of New York City.
-Swedes have the longest life expectancy in Europe.
-On Easter, children in Sweden dress up as witches and go trick-or-treating.
A final word
With different personalities in each season, a holiday in Sweden offers new fascination with each visit.
Become our Sweden Travel Expert
We are looking for contributors for our Sweden travel guide. If you are a local, a regular traveller to Sweden or a travel professional with time to contribute and answer occasional forum questions, please contact us.