Introducing Syria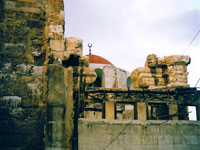 Mosque © Judith Duk
*Syria has been in a state of violent unrest and civil war since 2011 and is also faced with serious ISIS presence since they took control of the Syrian city of Raqqa in 2014. The country is incredibly unsafe and all travel to any area in the country is advised against.
Arabic hospitality can be somewhat overwhelming for first-time visitors, and nowhere else in the Middle East will visitors receive such a genuine demonstration of Arabic hospitality, accompanied by a refreshingly sincere welcome, than in the Arab Republic of Syria. 'Ahlan wa sahlan' is a phrase that will be heard often throughout the country, meaning 'You are welcome', and will more than likely be accompanied by a traditional cup of Arabic coffee or a glass of tea, or an offer to share in the family meal.
Syria offers tourists as much a cultural experience as a sightseeing one, where ancient history provides a fascinating backdrop to everyday life on the streets. Part of the ancient caravan route, the 500-year old souqs (covered markets) are a riot of colour and turmoil, where anything from handmade chunks of soap and carpets to sheep's tongues and underwear are sold from shops crammed into the narrow cobblestone alleyways. On the streets, donkeys, 1960s American car-taxis, bicycles, minibuses and private jeeps vie for priority, while street vendors and shoe-shiners clog the sidewalks, forcing pedestrians to take on the traffic amid a cacophony of hooting and shouting.
One of the most interesting places for travellers is the capital city of Damascus, brimming with history as one of the oldest continuously-inhabited cities in the world. Then there is Aleppo in the north with its citadel, elaborately decorated hammans (bath houses), ancient souq and the nearby ruins of St Simeon, considered to be one of the world's oldest remaining churches.
Time spent in Syria will be as gratifying as it is interesting, and visitors will return home with a collection of stories to tell, a wealth of fond recollections, and a camera full of photographs.
Become our Syria Travel Expert
We are looking for contributors for our Syria travel guide. If you are a local, a regular traveller to Syria or a travel professional with time to contribute and answer occasional forum questions, please contact us.