Cities
Introducing Tanzania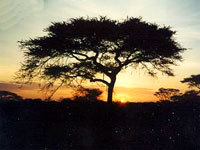 Serengeti sunset © Judith Duk
Tanzania Travel Guide
Tanzania, the largest country in east Africa, is a tourist jewel that is too often overlooked by visitors to Africa. Home to the continent's highest peak (in the form of Mount Kilimanjaro), its lowest depression (the bed of Lake Tanganyika), its most famous national park (the Serengeti) and part of its largest lake (Lake Victoria), Tanzania's natural wonders are perfectly complemented by its excellent range of tourist sites and activities.
Visitors to Tanzania usually seek out one (or more) of four distinct and memorable travel experiences. Many travel to the island paradise of Zanzibar for an exotic beach vacation, a sun-soaked getaway spent lounging on the white sands of Zanzibar's northern coast and rambling around its historic Stone Town district (a UNESCO World Heritage Site). Others travel to Tanzania for snorkelling or diving in the Spice Islands (especially Mafia Island), where a gorgeous coral reef system and the opportunity to swim with whale sharks draws divers from all over the world.
Even more popular are safari tours of Tanzania's world-famous game and wildlife parks. The largest and best-known of these, the Serengeti National Park, annually plays host to the largest mammal migration in the world - where millions of animals move northward in the search for greener pastures in an event that has been termed a 'natural travel wonder of the world'.
Finally, many holidaymakers choose Tanzania for the express purpose of visiting Mount Kilimanjaro National Park, and climbing the mighty peak. An awesome sight, the snow-capped mountain rises unexpectedly from lush rainforest surroundings, and is the only mountain of its stature in the world that can be climbed my relatively inexperienced hikers.
Best time to visit Tanzania
Tanzania's climate is characterised by distinct wet and dry seasons. Tanzania has two rainy seasons: the 'Mango rains' last from late-October to late-December; and the chief monsoon season runs from March to May. The best time to visit Tanzania is between June and August, when daytime temperatures are bearable, and nights are cool rather than sultry. For visitors to the Serengeti, the famous migration occurs in January and February - but be warned that this is an extremely hot time of the year, with the mercury rising as high as 40C (104F). Read more on Tanzania's Climate and Weather.
What to see in Tanzania
-Stone Town's Anglican Cathedral is a must for those interested in African history.
-Laze on one of Zanzibar's famed northern beaches like Kendwa and Matemwe, while watching picturesque dhow boats sail by.
-The Makumbusho Village Museum in Dar es Salaam offers visitors the interesting opportunity to view traditional Tanzanian tribal homes.
-The Central Market in Stone Town is a vibrant place full of sights, smells and sounds that will linger long in the memory. Read more about Tanzania Attractions.
What to do in Tanzania
-Go scuba diving in the Spice Islands, at popular dive sites like Mafia and Pemba Islands.
-Go on safari in the Serengeti and see the world-famous mammal migration there, with in excess of one million wildebeest alone making the epic northward trip.
-Ramble around Zanzibar's historic Stone Town district, and admire the gorgeous buildings and colourful bazaars that line the maze-like streets.
-Get fit at home, then travel to Mount Kilimanjaro National Park and attempt a hike up Africa's highest summit.
Getting to Tanzania
Cheap flights to Tanzania are available from a variety of British, European and Middle Eastern destinations. The flight to Julius Nyerere International Airport in Dar es Salaam takes about 10 hours from major British airports. American travellers will have to book an indirect flight to Tanzania from the US, usually stopping over in London or Amsterdam. Get more information on Tanzania Airports.
Read
The Book of Secrets by MG Vassanji, The Snows of Mount Kilimanjaro by Ernest Hemingway, Great Sky Woman by Steven Barnes, and Shout at the Devil by Wilbur Smith.
Watch
The African Queen (1951) and Darwin's Nightmare (2004).
Eat
Mtori (cooked beef, prepared with bananas), mchicha (a vegetable-based stew with meat or fish added to it), and ugali (a polenta-style side dish made from corn flour).
Drink
Konyagi, an alcoholic beverage somewhere between gin and vodka.
What to buy
Beaded African jewellery, carved soapstone figurines, Masai blankets and Tingatinga artworks.
What to pack
Pack sunscreen, lightweight clothing, after-sun lotion and effective insect repellent for a holiday in Tanzania. Remember that Tanzania is a predominately Muslim country, and that modest dress is required (no matter the heat). If you're planning to climb Mount Kilimanjaro, don't make the mistake of starting the hike in brand-new shoes.
What's on in Tanzania
The TanzaCat Catamaran Regatta (September) is popular among sailing enthusiasts, with thousands of foreign visitors making their way to Dar es Salaam's Msasani Bay. Mafia Dance (August), held on Mafia Island, is east Africa's biggest electronic dance music festival - offering 14 days of pumping tunes in an idyllic beach setting.
Did you know?
-The Great African Rift Valley, one of Tanzania's chief geological features, is visible from space.
-The name Tanzania is a portmanteau of Tanganyika and Zanzibar.
-The coconut crab, found on Zanzibar, is the largest crab in the world.
A final word
A land overflowing with natural sights and wonders, Tanzania offers visitors a selection of unforgettable holiday experiences ranging from the swaying coconut palms of a Zanzibar beach to action-packed wildebeest migrations on a Serengeti safari.
Become our Tanzania Travel Expert
We are looking for contributors for our Tanzania travel guide. If you are a local, a regular traveller to Tanzania or a travel professional with time to contribute and answer occasional forum questions, please contact us.
Meet the Masai and climb Mt Kenya. Sleep in tented lodges in lion territory. Build your own Kenya & Tanzania safari.
ADVERTISEMENT
---