Introducing Togo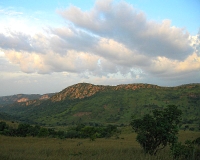 Togo landscape © Jurgen
Wedged between Benin and Ghana, and bordered by Burkina Faso in the north, the skinny West African country of Togo is an intriguing and largely undiscovered destination. Though small in size, the country's length allows it to straddle an incredibly diverse range of environments. Savannahs and rolling hills contrast with sandy beaches, and lush rainforests compete with lakes and swamp plains. Add to this the interesting and diverse local peoples, a rocky political climate and a varied colonial history, Togo is indeed a fascinating and complex destination.
Togo's history is characterised by political unrest and instability, caused by the 38-year long dictatorship of President Étienne Gnassingbe Eyadema, whose autocratic reign ended only with his death in early 2005. In an undemocratic and nepotistic move, Faure Gnassingbe, son of the former president, was instated as Togo's leader, despite a major outcry both locally and internationally. Amidst the political turmoil, thousands fled to neighbouring Ghana and Benin and remain there as refugees.
The political climate notwithstanding, there is much of interest to explore. The country's capital, Lomé, is in the south, situated on the country's sliver of coast on the Gulf of Guinea. Remnants of its German, Portuguese and British heritage are evident, with several colonial buildings, including the German Cathedral, nestling side-by-side with bustling traditional markets.
It is worth moving further inland, however, to explore the Togo that lies beyond its main city. Cascading waterfalls, lush tropical rainforest, traditional villages, game viewing and more can be found outside the capital. Boating and fishing on Lake Togo is very popular; as are hikes up Agou peak, Togo's highest point at 3,000 feet (914m); and visits to the UNESCO World Heritage Site of Tamberma mud tower-houses in Koutammakou and various art and craft centres countrywide.
Part of the magic of the Togolese Republic comes from its 37 ethnic tribes, and visitors may be lucky enough to see one of the many traditional festivals that take place throughout the year, celebrating the culture and spirituality of the people in an interesting and varied environment. It may be small and off the beaten track, but Togo has plenty to offer.
Become our Togo Travel Expert
We are looking for contributors for our Togo travel guide. If you are a local, a regular traveller to Togo or a travel professional with time to contribute and answer occasional forum questions, please contact us.