Introducing Tonga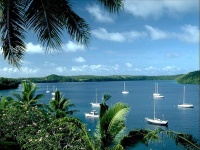 Vavau © YXO
Referred to by Captain Cook as "The Friendly Islands", Tonga spreads south of Samoa for 500 miles (800 km); the 171 islands comprise the Pacific's last monarchy and only Pacific nation never to be colonised. Proud of their history, Tongan culture runs deep in the 48 inhabited islands.
The image of an idyllic island kingdom was tarnished in 2006 when the beloved King Tupou IV died and succession was handed to his less-revered son King George Tupou V. Never one to mingle with locals, King Tupou V preferred a British aristocratic manner. Known for his fondness for ornate military uniforms and travelling in a chauffeured British taxi to and from his hillside villa, the Tongan people finally had enough: pro-Democracy riots damaged much of the capitol Nukualofa. Just before coronation King Tupou V relinquished much of his power as well as many private businesses interests in appeasement. Yet such an ornate dresser was not to become king without style as he threw a party worth $2.5 million, a significant part of the country's annual budget.
Tonga has since returned to a relaxed atmosphere where travellers usually find respite from the stresses of the modern world. It is often the destination of water sports enthusiasts. Yacht charters are popular for exploring the islands of Vava'u and Neiafu. Diving off coral reefs or snorkelling close to shore are both available for beginners to experts on many of the islands. Coral reef surfing swells are reserved for experienced water souls. The presence of humpback whales in Tongan waters make this a winter holiday destination as well.
While the Tongan people are friendly and the culture relaxed, traditional Christian values predominate. However, many Christian traditions are mixed with older Polynesian customs and festivals. The capitol and commercial centre of Nukualofa is a representation of this, with a blend of western and traditional influence evident in vibrant markets held side-by-side with crumbling colonial buildings.
Getting to Tonga is easy as regular flights arrive from many destinations to the main island Tongatapu. Travel within the islands is through ferry service or plane and one should not expect the same degree of tourist development as many popular beach destinations; yet this isolation is intrinsic to Tonga's charm.
Become our Tonga Travel Expert
We are looking for contributors for our Tonga travel guide. If you are a local, a regular traveller to Tonga or a travel professional with time to contribute and answer occasional forum questions, please contact us.