Ports of Call

---

---
Introducing US Virgin Islands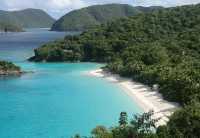 Hawknest Bay © Reinhard Link
Of the 60 mostly uninhabited islands that make up the US Virgin Islands, the biggest and most visited are St Thomas, St John and St Croix. Their appeal lies in the amalgamation of the exotic and the recognisable, an island paradise with modern comforts, and a balance between Caribbean culture and American practicality.
The energetic capital of Charlotte Amalie, with its attractive harbour, lies on St Thomas. This island is the most Americanised of the chain, famous for its world-class duty-free shopping. Nearby St John is an unspoilt nature lover's paradise, with most of its forests, pristine beaches and reefs part of a protected national park. The largest of the islands is St Croix and its remoteness from the others, the historic remnants scattered about the landscape, the pretty Danish-influenced towns of Frederiksted and Christiansted, and the snorkelling at nearby Buck Island are the attractions here.
Surrounded by the crystal-clear waters of the Caribbean, these islands boast some of the most splendid coastline in the world, with white sandy beaches, astonishing coral reefs, plentiful marine life, secluded coves, and untouched rainforests rising up above the sea-swept landscape. Caribbean colour touches every aspect of the islands, blending with the strong Danish influence in the towns. White sails glide effortlessly across the emerald waters; local craftsmen display their unique island art along cobblestone alleyways; tiled villa roofs provide a splash of red against the verdant hillside; busy markets supply the essentials for a delicious cuisine; and the sounds of folk songs and calypso bands fill the air.
The Virgin Islands are among the most popular cruise ship destinations in the Caribbean and the port towns of Charlotte Amalie, Christiansted and Frederiksted are often swamped with newly arrived passengers in a frenzy of shopping and dining. The most popular beaches are seldom deserted, and the key reef areas are often a flurry of flippers and snorkels. Luxury resorts and fine hotels share the streets with old colonial architecture. Yet it is still possible to escape the crowds and find that bit of elusive paradise, to relax away from the divers and sailors, the sightseers, the ecological tour groups, and the shoppers.
Become our US Virgin Islands Travel Expert
We are looking for contributors for our US Virgin Islands travel guide. If you are a local, a regular traveller to US Virgin Islands or a travel professional with time to contribute and answer occasional forum questions, please contact us.