Ports of Call

---

---
St Thomas Port of Call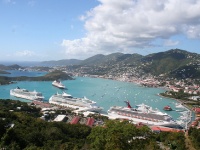 St Croix © US Virgin Islands Tourism
Perhaps the most bustling town in the US Virgin Islands, Charlotte Amalie on the island of St. Thomas is the most popular cruise port in the Caribbean. The cruise port combines the convenience of being on US territory (no passport for US citizens) with a decidedly Danish culture and atmosphere.
Among vying attractions, the vibrant coloured and scenic town Charlotte Amalie is the most allluring. The European-styled city coloured with the pastels of the Caribbean is set against deep green hills and a rich, almost glowing blue, deep water bay.
Cruise ships come to St. Thomas at two ports, the more often used Havensight or the newly built Crown Bay Centre. Heavensight is next to Charlotte Amalie city centre and Crown Bay is just to the west. When berths are full passengers are tendered into the port docks. Both ports have all conceivable passenger amenities although Havensight has more of them.
---
Contact
Tel: +1 (340) 774 8784
http://www.usvitourism.vi
Tourist information is available from the entrance of Havensight cruise terminal
Transport
Taxis wait at both cruise terminals for the short drive into Charlotte or other island destinations. In Charlotte most the town is easily walkable. A ferry from Charlotte connects to other nearby islands as does a bus service that runs to Red Hook on St Thomas.
Attractions
Charlotte Amalie is a beautiful city to wander about just for its Danish ambiance. For a great view of the city hike to Black Beard's Castle, said to be the pirate's own lookout. Fort Christian is also a beautiful and historically interesting building and museum. For even better perspective of the city, ride the St Thomas Tramway up the tall hill. Out of the city, Coral World, a large marine park with and underwater observatory, is well worth a visit. To soak up beach time nothing beats Magens Bay.
Restaurants
Craig and Sally's - Well known and popular international food in French Town
Herve - Very popular international food on a covered deck with great views
Paradise Point - Top of the tram ride dining with the best island view
Best Dish
Callaloo soup
Shopping
Heavensight has an enormous shopping centre that will take some time to peruse. In Charlotte Amalie great boutique stores are best found along its Main Street also called Dronningens Gade. Cheaper souvinirs are best found at Vendors Plaza near Fort Christian. US residents get extra duty free limits.
Best Buy
Jewellery or rum
Excursions
Take a bus to Red Hook
Ride a boat to Honeymoon Beach
Visit nearby beaches on the island St John
Charter a yacht for sunset cruise
Golf at Mahogany Run Golf Course
Become our US Virgin Islands Travel Expert
We are looking for contributors for our US Virgin Islands travel guide. If you are a local, a regular traveller to US Virgin Islands or a travel professional with time to contribute and answer occasional forum questions, please contact us.