Cities
Regions
Introducing Ukraine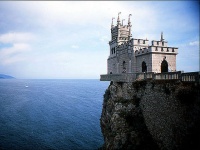 Swallow's Nest, Yalta © pixie_bebe
One of the largest countries in Eastern Europe, the Ukraine is situated on the Black Sea, surrounded by Russia, Belarus, Poland, Slovakia, Hungary, Romania and Moldova. It is a popular holiday destination for tourists from surrounding countries, and is becoming increasingly attractive to citizens of Western Europe and North America.
One of the main attractions for visitors to the Ukraine is the country's rich history, with more than 500 cities dating back over 900 years, and a fascinating assortment of architecture influenced by its diverse neighbours. Most travellers begin in the historical capital city of Kiev, arguably one of the most beautiful cities in Europe, where the ancient streets, striking architecture, stunning scenery, and wealth of cultural and religious sights make it a fascinating places to explore. The early capital of Old Rus is also enriched with monuments such as the grandiose St Sophia's Cathedral, famous for its 11th-century mosaics and frescoes; and the Cave Monastery, the holy centre of the early Orthodox Church.
The other major attraction for Ukraine tourists is the natural beauty of the country, with areas like the Carpathian and Crimean mountain ranges; the Black Sea and Sea of Asov; and the Crimean peninsula, a popular tourist haven with its warm climate, famous resorts, history, and old cities such as Sevastopol and Yalta. The Carpathian Mountains draw skiers and hikers year-round, and the region is also popular for its restorative spas and historic sites. Gateway to the mountains is the city of Lviv, one of the main cultural centres of the country and a delight to explore with its medieval old town and distinctive architecture. The harbour town of Odessa, known as the 'Pearl of the Black Sea', is an established tourist destination that also serves as the gateway to many of the famous Black Sea resorts, and is a fascinating city with a wonderful mixture of cultures and historical architecture.
With a name that means 'borderland', it's no wonder that the Ukraine is constantly in a state of reinvention. Formerly part of the Soviet Union, the country experienced a popular revolution in 2004 that brought about a freer, more open state (despite ongoing political woes). Things are looking up for the country, beginning to loosen its ties with Russia and forge new ones with the EU and NATO; the Ukraine is a destination worth considering for its history and culture alone. Cruises on Europe's longest river, the Dnieper River, from Kiev to the Black Sea coast is one of the most popular ways to tour the Ukraine, providing a discovery of Ukraine's history, and its architecturally rich cities, while cruising the 1,370 mile-long stretch of river (2,205km) on board ship.
Become our Ukraine Travel Expert
We are looking for contributors for our Ukraine travel guide. If you are a local, a regular traveller to Ukraine or a travel professional with time to contribute and answer occasional forum questions, please contact us.