Dubai Port of Call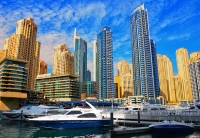 Dubai Marina © lensnmatter
While still a young port of call for cruise ships on around-the-world jaunts or just Gulf coast cruises, Dubai's huge port bustles as the busiest container port in the world. Now increasing numbers of tourists are drawn to its glittering shores in search of true luxury in its famous shopping malls, gleaming high-rise buildings, and immense amusement parks and tourist attractions.
The sleek facade is contrasted sharply by the bustling souks and expansive deserts, which hint at the rich culture and tradition in the region's long history. There is much to see and do in Dubai, even for just a day or two, including designer shopping at the Dubai Mall, exploring the city's history at the Dubai Museum, tea at the iconic Burj al-Arab Hotel, or splashing around in the Wild Wadi water park.
Cruise ships dock at the Dubai Cruise Terminal at Port Rashid, which has amenities such as duty free shops and currency exchanges.
---
Contact
Dubai Cruise Terminal
+971 4 331 1106
www.dubaiharbour.com/en/cruise-terminal
Transport
Dubai has a well-maintained public transportation system. Most visitors to Dubai find it easiest and most time-efficient to use the large fleet of taxis that serve the city, and ride sharing apps such as Uber are also an option. Exploring on foot is time-consuming and impractical, as many attractions are far apart.
Attractions
There are many things to see and do in Dubai, including strolling through the traditional buildings of the Bastakiya District, taking a tour of the richly decorated Jumeirah Mosque, marvelling at the world's largest fountain, and visiting the elaborately constructed Palm Jumeirah Island. Those looking for adventure can entertain themselves with watersports on the many white sand beaches.
Restaurants
Al Muntaha at The Burj Al Arab - seven star dining 200 metres up
QD's - funky shisha tents at the Dubai Golf & Yacht Club
Best Dish
Ghuzi
Shopping
Shopping is a major pastime in Dubai, and many tourists visit specifically to spend time in one of the over 70 gleaming high-rise shopping malls such as the Dubai Mall and the Mall of the Emirates, and the bustling Gold and Spice Souks. While Dubai is no longer the bargain it once was, low import duties and no sales tax mean there are deals to be found. Popular buys include gold, textiles, designer goods and electronics.
Best Buy
Pashminas and Arabic perfumes.
Excursions
Go one a desert safari by SUV or camelback
Visit nearby Abu Dhabi for an entirely different urban experience
Take a cruise on Dubai Creek
Become our United Arab Emirates Travel Expert
We are looking for contributors for our United Arab Emirates travel guide. If you are a local, a regular traveller to United Arab Emirates or a travel professional with time to contribute and answer occasional forum questions, please contact us.