Cities
Ports of Call

---
Tripoli Port of Call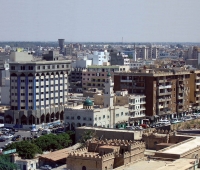 Tripoli © Bryn Jones
Since Libya has only recently allowed American tourists into the country, Tripoli remains largely undiscovered as a travel destination, but increasing numbers of cruise lines are adding it to their itineraries, and it's easy to see why. Tripoli is made up of a unique blend of African and Roman history found only in this part of Africa. The largest port in North Africa, the city's streets are always buzzing with activity, and the contrast of the modern buildings and the ancient Old Town makes for a fascinating trip.
---
Contact
Tripoli Port Authority: tel 00218213513359 or email info@tripoliport.com.
Transport
The main area of Tripoli is small enough to walk around, but in the extreme heat it is sometimes preferable to take the yellow and white taxis.
Attractions
Tourists are spoilt for choice when it comes to the amazing sights in and around the city, from the Red Castle to the Gurgi and Karamanli Mosques. The brightly-coloured and bustling souks are interesting to see even if you're not looking for bargains, and you can also simply relax on the beaches.
Restaurants
Al-Athar - traditional Libyan fare under the arch of Marcus Aurelius
Al Hofra Fish Market - bustling seafood market with very fresh fish
Veranda - bakery and coffee shop with the best ice cream in Tripoli
Best Dish
Libyan-style truffles
Shopping
Visitors to Tripoli can stroll in the bustling bazaars, shopping for holiday souvenirs and trinkets as well as beautiful textiles and exquisite jewellery. The Old Town has a number of markets, including the large Souk al-Attara, and you'll find more upscale shopping in the downtown Gargaresh area.
Best Buy
Libyan pottery and Tuareg silver
Excursions
Browse the markets and historical buildings of Old Town
See the 3,000-year-old ruins at Leptis Magna
Visit the Roman ruins at Sabratha
Become our Libya Travel Expert
We are looking for contributors for our Libya travel guide. If you are a local, a regular traveller to Libya or a travel professional with time to contribute and answer occasional forum questions, please contact us.