United States of America

---

---

---

---

---

---

---
Regions
Haines Port of Call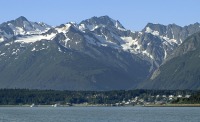 Glacier Bay, Alaska © National Park Service
Haines connects the Inside Passage to the Alcan Highway, making it a popular stop on both land and sea holidays in Alaska. The scenic location Haines is situated in is known as the Valley of Eagles for its abundant Bald Eagle population. A unique phenomenon in North America, the small population of around 2,000 people is dwarfed each winter by the arrival of more than 3,500 of the majestic birds.
The town of Haines was originally occupied by the Tlingit people, and while it was caught up in the Klondike Gold Rush in the late 1800s it was only after World War II that Haines truly became connected to the outside world. Now most of the region flocks there each July for the Southeast Alaskan State Fair.
A fairly new port of call on cruise itineraries, one of the best aspects of a stop in Haines is the lack of crowds; fewer than 20 ships dock here each year so the town retains an undiscovered air that seasoned cruise passengers will find refreshing. Cruise ships dock at the Port Chilkoot Wharf, at the foot of Portage Street below Fort Seward.
---
Contact
Haines Convention and Visitors Bureau
+1 (907) 766-2234
www.haines.ak.us
Transport
There are no taxis in Haines. The town is small enough to see on foot, or you can hire a car or shuttle service.
Attractions
One of the best ways to enjoy this charming town is by visiting the American Bald Eagle Foundation, which has a good balance of educational info and live bird presentations. Other wildlife like moose, wolves, reindeer, grizzly bears and wolverines can be seen at the Kroschel Wildlife Center. History and culture buffs will enjoy Fort William H Seward, which features restaurants, art galleries, cultural storytellers and the Alaska Indian Arts Center.
Restaurants
The Bamboo Room & Pioneer Bar - casual diner with excellent fish and chips
Mountain Market & Spirits - good vegetarian and healthy foods in a relaxed environment
Fireweed Restaurant - simple and tasty salads, pizzas and pastas made from scratch
Best Dish
White salmon (when available)
Shopping
There are a few souvenir shops in town for cruise passengers, selling everything from postcards and t-shirts to beautifully-made local art. The Sea Wolf Art Studio is the best place to go for native Tlingit art, including totem poles, masks, woodcarvings and jewellery. You can also pick up fresh smoked salmon and halibut at Dejon Delights.
Best Buy
Tlingit silver jewellery
Excursions
Visit the Chilkat Bald Eagle Preserve
See the Takshanuk Mountain Trail by 4x4
Hike Battery Point Trail along the beach to Mt Riley
Charter a flight to a glacier with Mountain Flying Service
Go rafting on the Chilkat River
---
Become our Alaska Travel Expert
We are looking for contributors for our Alaska travel guide. If you are a local, a regular traveller to Alaska or a travel professional with time to contribute and answer occasional forum questions, please contact us.