United States of America

---

---

---

---

---

---

---
Regions
Icy Strait Port of Call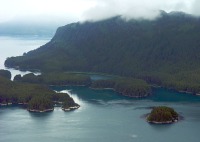 Glacier Bay, Alaska © National Park Service
One of Alaska's newest cruise ports, Icy Strait is an attractive mix of scenic natural beauty and small-town charm. Conveniently located near Hoonah, a large Tlingit Indian settlement, and Glacier Bay National Park, the port strikes a balance between providing memorable experiences for visitors and preserving the local lifestyle and ecosystem.
Icy Strait has many miles of untouched wilderness to enjoy, and the local wildlife includes grizzly bears, humpback whales, seals, sea otters, bald eagles, and more. Organised excursions are available to many scenic points of interest.
Cruise ships dock just off Icy Strait Point in Port Frederick Bay, centrally-located for good restaurants and shopping.
---
Contact
Icy Strait Point Tourism
+1 (907) 945-3141
www.icystraitpoint.com
info@IcyStraitPoint.com
Transport
Icy Strait Point is small enough to explore on foot, as nowhere is more than 15 minutes' walk from the docks. Further afield transportation options are mostly limited to organised tours.
Attractions
The Cannery Museum is an interesting way to see what happens to all the fresh salmon and halibut caught along Alaska's coastline. Local tour operators offer excursions that include whale-watching, kayaking, rainforest hikes, cultural tours and more. One of the most popular activities in Icy Strait is the ZipRider Tour, an exciting tree-top tour with panoramic views of Port Frederick.
Restaurants
The Crab Station - fresh Dungeness Crab in a casual outdoor dockside setting
The Landing Zone Bar & Grill - hot food with great views of Port Frederick and the zipline
The Cookhouse Restaurant - halibut fish and chips with waterfront views
Best Dish
Dungeness Crab
Shopping
Icy Strait's dedication to keeping things local means visitors can stock up on unique berry jams and confectionaries you won't find anywhere else. The Icy Strait Point shopping centre has a variety of choices, including food, artisan crafts like blankets and wooden carvings, and jewellery. Cruise passengers should keep in mind that there are no banks or ATMs in Icy Strait, and draw cash on the ship before disembarking, however many shops accept credit cards.
Best Buy
warm woven blankets
Excursions
Try your hand a saltwater salmon fishing
Take a zip-line tour 1,300 feet (396m) above sea level
Learn to make smoked salmon dip in an Alaskan cooking class
Watch traditional Tlingit dances at the Native Heritage Center Theater
Take a wine-tasting and whale-watching cruise to Point Adolphus
---
Become our Alaska Travel Expert
We are looking for contributors for our Alaska travel guide. If you are a local, a regular traveller to Alaska or a travel professional with time to contribute and answer occasional forum questions, please contact us.