United States of America

---

---

---

---

---

---

---
Regions
Juneau Port of Call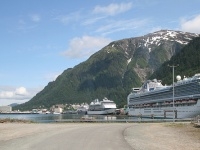 Glacier Bay, Alaska © National Park Service
Juneau, Alaska's capitol city stretching along a narrow strip between mountains and the Gastineau Channel, is an unexpectedly cosmopolitan port stop on Inside Passage cruises. Mountains and stretches of wilderness cut off any land access to Juneau making it very reliant on its cruise industry.
Juneau's best attractions lie in the scenery surrounding it; some of the best are longer excursions, but quick popular trips include riding Mount Roberts Tramway for an eagle's eye view of the city, or visiting nearby Mendenhall Glacier.
Several ships can dock at the terminal located just next to downtown. When the docks are full, which is often in peak season, ships anchor in the harbour and tender passengers in. The town can get incredibly crowded on days in the peak cruise season.
---
Contact
Tourist Kiosk
101 Egan Dr or at Davis Log Cabin Visitor Information Center on 134 Third Street
Tel: +1 (907) 586 2201
www.traveljuneau.com
Transport
From the cruise docks, downtown Juneau is a short walk, although shuttle buses are available for nasty weather days. Taxis are also widely available which can take you as far as Mendenhall Glacier. Capitol Transit, the public bus system, traverses the town regularly.
Attractions
Most cruisers jump into the scenery as fast as possible, either on the tram ride up Mount Roberts from downtown Juneau, or take a quick ride out of town to Mendenhall Glacier, which is Alaska's most popular sight. Places close to town include a great salmon hatchery, an Alaska State Museum and tours of the famous Alaska Brewing Company. Great hikes in Glacier Gardens, river trips and gold panning excursions are just out of downtown.
Restaurants
Red Dog Saloon - Iconic restaurant and bar popular with cruisers
Tracy's King Crab Shack - best seafood in Juneau
Silverbow - The state's oldest bakery
Best Dish
Baked freshly caught wild salmon
Shopping
There are many small souvenir shops near the cruise terminal. Downtown Franklin Street and Mendenhall Valley both are popular shopping districts both with tourist merchandise and boutique shops. Many art galleries are spread around town including great examples of Native American arts and crafts.
Best Buy
Smoked Salmon or small totem pole
Excursions
River raft on any class of rapids
Trek the glaciers
Whale Watch up close on a rented boat
Zip through the rainforest in a canopy tour
Helicopter over the glaciers
---
Become our Alaska Travel Expert
We are looking for contributors for our Alaska travel guide. If you are a local, a regular traveller to Alaska or a travel professional with time to contribute and answer occasional forum questions, please contact us.