United States of America

---

---

---

---

---

---

---
Regions
Sitka Port of Call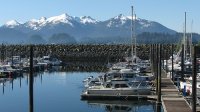 Glacier Bay, Alaska © National Park Service
The small town of Sitka on Baranof Island has a rich and colourful history. Originally occupied by the Tlingit Indians, the town was also an important Russian outpost before Alaska was sold to the US in 1867 (a transfer that took place in Sitka).
Despite its size of only 9,000 people, Sitka is a bustling town that attracts more than a quarter of a million visitors each year. With both cultural and natural attractions as well as a variety of good restaurants and lively pubs, Sitka has something to offer everyone.
Cruise ships dock offshore from Sitka, and smaller boats are used to ferry passengers ashore to the O'Connell Bridge Lightering Facility at the foot of Castle Hill or the Crescent Harbor Lightering Facility near the Centennial Hall.
---
Contact
Sitka Convention and Visitors Bureau
Tel: +1 (907) 747-5940
www.sitka.org
scvb@sitka.org
Transport
There is a transit shuttle (available on days with more than 1,000 cruise ship visitors scheduled) that stops at Crescent Harbor Shelter, Sheldon Jackson Museum, Sitka Nat'l. Historical Park, Alaska Raptor Center, a downtown stop by Random House, the Tribal Community House, and the O'Connell Bridge docking area. Passengers can buy round-trip tickets or an all-day pass. There are also buses and taxis available, and the town is small enough to be explored on foot.
Attractions
Sitka's rich history means there are some interesting museums and historical sites in town, including the Sheldon Jackson Museum, Baranof Castle Hill State Historic Site, and Sitka National Historical Park. Of course the beauty of the area surrounding the town is a popular attraction in Sitka, and there are tours available both on land and sea.
Restaurants
The Larkspur Cafe - lively cafe with evening entertainment
Ludwig's Bistro - upmarket Mediterranean cuisine in a cosy atmosphere
Dock Shack - cheap and cheerful seafood at the waterfront
Best Dish
Halibut fish and chips
Shopping
There are plenty of shops in Sitka, stocking everything from tacky t-shirts to delicious smoked salmon. Furs are a popular souvenir from Sitka, as well as Russian and Tlingit art and crafts. On busy cruise ship days, head over to the Baranof Arts & Crafts Association, which has a great selection of items made by local artists.
Best Buy
Russian handicrafts
Excursions
Watch traditional Russian dances performed by the New Archangel Dancers
See brown bear cubs at the Fortress of the Bear educational and viewing centre
Experience Tlingit culture and history on a Sitka Tribal Tour
Go birdwatching at the Saint Lazaria National Wildlife Refuge
Explore islands and kelp forests on a kayak tour
---
Become our Alaska Travel Expert
We are looking for contributors for our Alaska travel guide. If you are a local, a regular traveller to Alaska or a travel professional with time to contribute and answer occasional forum questions, please contact us.