United States of America

---

---

---

---

---

---

---
Regions
Skagway Port of Call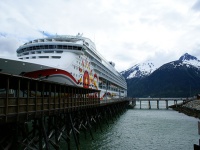 Glacier Bay, Alaska © National Park Service
Situated in a narrow glaciated valley at the head of Alaska's Taiya inlet, the small town of Skagway first earned its place on the map in 1897 when prospectors from all over the world arrived by steamship in search of gold in the Dawson Gold Fields, turning it into a bustling port town with saloons, hotels and railways.
Skagway is today one of Alaska's most popular ports and cruise passengers arriving here will still feel the same gold rush atmosphere of the town as period buildings and wooden sidewalks are restored to their former glory reinforcing the distinctive charm of this port. Visitors will love the authenticity of the town and exploring the attractions such as the Klondike Gold Rush National Historical Park Visitor Center or even trying their hand at a gold panning at Liarsville Gold Rush Trail Camp.
Cruise ships dock at one of three deep-water docks which are all just a short walk from town. Smaller ships may dock at the Ferry Dock, which is also just a short walk from the heart of the town.
---
Contact
Skagway Convention & Visitors Bureau
Tel: 888 762 1898 or 907 983 2854
www.skagway.com
skagwayinfo@gmail.com
Transport
Skagway is a relatively easy town to explore on foot and cruise passengers will have no problems finding their way around this quaint town. Car rental agencies can be found at the Westmark hotel but cruise passengers are recommended to book far in advance. Alternatively a tour is the best way to make your way around the town of Skagway. These are easily arranged from the Visitors' Bureau.
Attractions
Cruise passengers spending some time in Skagway should be sure to learn about the Gold Rush at the Klondike Gold Rush National Historical Park Visitor Center, take a walking tour to discover the history of this tiny town, take the train tour on the White Pass & Yukon Route Railroad and fit in some gold panning at Liarsville Gold Rush Trail Camp and learn more about Alaskan history at the Corrington Museum of Alaskan History where Gold Rush photos, beads and baleen baskets can be viewed.
Restaurants
Stowaway Cafe - casual eatery serving comforting homemade fare
Lemon Rose Bakery - sandwiches and great cinnamon rolls
Skagway Brewing Company - microbrewery with American pub food
Best Dish
Alaskan king crab
Shopping
Most shops are located on Broadway Street, but this small town does boast a few shopping opportunities, with everything from the regular touristy shops selling mass produced trinkets and junk to dinky independent clothing stores. For great crafts, prints, needlework and jewellery, visit Skagway Artworks or Changing Tides while Fairway Market is the place is a good place to pick up some fresh fruit snacks, film, health and beauty aids and sundries. Klothes Rush Gifts is the perfect place to pick up Alaska souvenirs while Miss Kitty's Buttonhole on French Alley sellsfunky hats, canes and 1898-style clothing.
Best Buy
gold jewellery, hand-painted gold-mining pans
Excursions
Play golf at 60 degrees North Latitude
Experience real Alaskan dog-sledding
Go whale watching on the ferry to Haines
Ride a bike along the White Pass Klondike gold route
Take a helicopter tour of the glaciers
---
Become our Alaska Travel Expert
We are looking for contributors for our Alaska travel guide. If you are a local, a regular traveller to Alaska or a travel professional with time to contribute and answer occasional forum questions, please contact us.