United States of America

---

---

---

---

---

---

---
Regions
Whittier Port of Call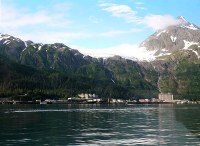 Glacier Bay, Alaska © National Park Service
A tiny town even in the busy summer cruise season, Whittier itself isn't much of an attraction with just more than 200 permanent residents. The town is a great base for exploring the pristine Alaskan wilderness however, and the region is filled with wildlife like bison, elk, moose, caribou, musk ox, bears, black-tailed deer, great horned owls and bald eagles.
Located just 34 miles (55km) from Anchorage, the town is a popular end point for Alaskan cruises as an alternative to the slightly larger Seward port. Cruise ships in Whittier dock at the Whittier cruise ship dock at the southern end of the town.
---
Contact
Whittier Visitor Information Center
+1 (907) 472-2379
www.whittieralaska.com
Transport
Whittier is a tiny town, and anywhere you need to get is accessible on foot. Visitors wanting to explore the mountains around the town will need to organise a tour, as there are no taxis. There is regular bus service to Anchorage.
Attractions
Whittier is a great place for nature enthusiasts, and offers outdoor activities like hunting and fishing, bird-watching, hiking, kayaking, dogsledding and even helicopter tours. The Alaska Wildlife Conservation Center is the best place to see the local fauna, and the Prince William Sound Museum has interesting exhibits on the history of Whittier and the Kenai Peninsula. If you have a bit of time and are in need of big-city amenities, Anchorage is only an hour's drive away.
Restaurants
Swiftwater Seafood Cafe - homey restaurant serving good halibut fish and chips
The Anchor Inn - serves hearty meals with big-screen sports playing
Lazy Otter Cafe - chili and chowder in a cosy cafe
Best Dish
Salmon
Shopping
There is very little shopping in Whittier, however cruise passengers will find several gift shops with a mixture of cheap souvenirs and handmade items.
Best Buy
Smoked salmon
Excursions
Try your luck at salmon fishing on a charter boat
Spot whales and otters from a hired kayak
Go dog sledding on a glacier
Get a bird's-eye view of Whittier on a helicopter tour
See moose, caribou and musk ox at the Alaska Wildlife Conservation Center
---
Become our Alaska Travel Expert
We are looking for contributors for our Alaska travel guide. If you are a local, a regular traveller to Alaska or a travel professional with time to contribute and answer occasional forum questions, please contact us.