Cities
Regions
Resorts

---

---
Ski Resorts

---

---
British Columbia Travel Guide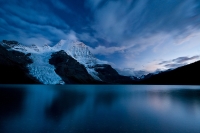 Berg Lake © Jeff P
Canada's most westerly province, British Columbia is sandwiched between the Rocky Mountains on the east and the mighty Pacific Ocean on the west, bordered to the south by the USA and to the north by the Northwest and Yukon territories. Its location on the Pacific Rim ensures that British Columbia has a rich blend of cultures, with large numbers of Asian communities living among the descendants of the English, Scottish, Irish and Welsh pioneers. Together with the area's own rich indigenous heritage, this makes for interesting towns and cities with a cosmopolitan ambience.
The combination of sea and mountains, together with the broken coastline sporting hundreds of islands and inlets, gives the province a diverse set of natural attractions and recreational opportunities, from world-class winter sports to sailing or hiking in tall forests. It is especially attractive to travellers who enjoy the great outdoors, particularly because a good transport infrastructure of ferries, charter boats, trains and well-maintained roads makes it possible to access all the best wilderness spots in British Columbia with ease and comfort.
The provincial capital of British Columbia is the city of Victoria, situated on the southern tip of Vancouver Island, but its largest and most populated city is Vancouver, known as Canada's 'emerald jewel' because of its green-blue vistas of mountains and sea.
British Columbia is home to four national parks, seven provincial heritage sites, and hundreds of other nature reserves. The Okanagan area is one of Canada's three wine-growing regions, known for its extreme terrain, including the highest point in the Canadian Rockies, the highest waterfall in Canada, and the country's only desert region.
The scenic Cariboo Chilcotin Coast is a maze of forests, winding through mountains and plains with hidden lakes dotting the landscape. The coast has a number of beautiful fjords, and is a popular destination for canoeing. The volcanic mountains of Tweedsmuir Provincial Park provide trekking opportunities, and the Kootenay Rockies boast some of the best skiing and snowboarding in Canada.
Become our British Columbia Travel Expert
We are looking for contributors for our British Columbia travel guide. If you are a local, a regular traveller to British Columbia or a travel professional with time to contribute and answer occasional forum questions, please contact us.