United States of America

---

---

---

---

---

---

---
Cities
Regions
Ski Resorts

---

---

---

---

---

show more Ski Resorts
Colorado Travel Guide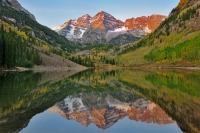 Maroon Bells, Colorado © Reimund Schuster
The best-known of the Rocky Mountain states, Colorado is essentially an outdoor paradise and owes its recognition to the majestic mountains that create spectacular scenery, panoramic vistas and an abundance of recreational possibilities. For most travellers, the essential appeal of Colorado is nature-based.
The Rocky Mountains are a year-round destination and boast stunning national parks and forests, scenic canyons, tranquil lakes, flowing rivers and towering peaks that provide opportunities for hiking, mountain biking, fishing and horse riding. Numerous winter resorts nestled in the mountains offer unrivalled skiing and snowboarding amid beautiful alpine scenery. The resort of Vail is considered to be one of the top ski destinations in the Americas and is the most popular, while Aspen is best known for its celebrities and glamorous après-ski scene.
The state capital, Denver, is the obvious starting point for a vacation and is the gateway to the mountains, ski resorts and spectacular Rocky Mountain National Park to the north. Home to many museums, parks, gardens and a lively downtown area, the city offers the comfort and culture of bigger cities like Los Angeles or New York, but at a more relaxed pace. Pikes Peak looms over the popular city of Colorado Springs, famous for the breath-taking views that were the inspiration for the lyrics of 'America the Beautiful' by Katherine Lee Bates. Just outside the city are the fantastic red sandstone formations of the Garden of the Gods.
The western part of the state comprises beautiful, remote desert canyons and the archaeological remnants of the cliff cities left by an ancient civilisation at Mesa Verde National Park, a stark contrast to the alpine wonders that attract most visitors to Colorado.
Become our Colorado Travel Expert
We are looking for contributors for our Colorado travel guide. If you are a local, a regular traveller to Colorado or a travel professional with time to contribute and answer occasional forum questions, please contact us.