United States of America

---

---

---

---

---

---

---
Georgia Travel Guide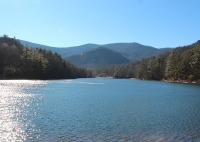 Lake Trahlyta © Thomsonmg2000
Gracious columned mansions, pretty girls, and handsome soldiers is the image the southern state of Georgia conjures up for most, thanks to the enduring fame of the classic movie Gone with the Wind, based on Margaret Mitchell's Pulitzer prize-winning novel. The state took a heavy toll during the American Civil War, particularly the capital, Atlanta, which was largely laid waste. Georgian determination, however, has ensured that a phoenix arose from those ashes, and today Georgia's lively towns and the thriving cosmopolitan city of Atlanta are a force to be reckoned with.
The coastal region, from lovely historic Savannah southwards, is a treasure-trove for nature lovers, still largely unspoilt and undiscovered by mainstream tourism. It offers beaches, offshore barrier islands filled with indigenous flora and fauna, wetlands, walking and biking trails, and quaint shrimping villages to explore.
Whichever region of Georgia one chooses to visit, be it Atlanta, the northern mountains, the plantations of the Deep South or the charming coast, there is one common denominator: everywhere visitors are received and hosted with traditional southern hospitality. This is the cherry on the top for the state that claims 'You can do anything in Georgia'.
Become our Georgia Travel Expert
We are looking for contributors for our Georgia travel guide. If you are a local, a regular traveller to Georgia or a travel professional with time to contribute and answer occasional forum questions, please contact us.