United States of America

---

---

---

---

---

---

---
Cities
Regions

show more Regions
Maui (Kahului) Port of Call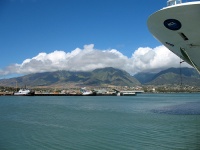 Na Pali Coast © Jeff Kubina
The largest community on the Hawaiian island Maui, Kahului is an commercial centre perfect to springboard into the lush scenery, volcanic peaks and paradisical beaches of the rustic and pristine landscape.
The best activities on the island are experiencing its dramatic landscapes outside of the port city. The best among these is Haleakala National Park and its enormous volcanic crater or the road to Hana, a spectacular and dramatic scenic drive.
Ships berth at the Kahului's dock, a near walk into town, although nothing of particular interest is close to the port. Most passengers wisely take organised shore excursions or waiting taxis to more interesting destinations around Maui. The beginning of the Hana Highway is next to the dock. Some ships anchor off the coast of Lahaina and tender passengers to its downtown, a short drive from Kahului.
---
Contact
Tel: +1 (808) 874-4919
www.mauinfo.com
rwmaui@gmail.com

Transport
If arranged rental car agencies can send a shuttle bus to take customer to their office at the nearby airport. Waiting taxis will also take passengers to anywhere on the island but can be expensive. Many choose to use the official organized services of the cruise line shore excursions.
Attractions
There isn't much to do in Kahului when compared to nearby attractions. For impressive an volcanic landscape and crater Haleakala National Park is breathtaking. One of the most scenic roads in the world is the 50 mile (81km) highway to Hana which starts from the cruise docks and passes ocean-side cliffs and hairpin turns. Lahaina is a popular tourist town and the nearby Kaanapali Beach is the best for water fun.
Restaurants
Da Kitchen Kahului - enormous portions of Hawaiian grilled food
Bistro Manila - friendly restaurant serving excellent filipino food
Makena Grill - Small fish taco stand is the best on the island
Best Dish
Local potato chips...really
Shopping
There is a standard mall in Kahului although better souvenirs and boutique shopping is found in Lahaina. There are more small shops in Whaler's Village on Kaanapali Beach.
Best Buy
Hawaiian t-shirt
Excursions
Visit nearby Wailuku
Deep-Sea fishing out in the horizon
Windsurf on Hookipa Beach, the world's best windsurf spot
Take a helicopter tour of the island
Sail a catamaran out to Molokini and whale watch on the way
---
Become our Hawaii Travel Expert
We are looking for contributors for our Hawaii travel guide. If you are a local, a regular traveller to Hawaii or a travel professional with time to contribute and answer occasional forum questions, please contact us.