United States of America

---

---

---

---

---

---

---
Cities
Ski Resorts

---

---

---
Maine Travel Guide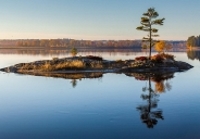 Morning Light, Maine © Paul VanDerWerf
The picturesque New England state of Maine lies in the easternmost reaches of the United States, bordering on the Canadian provinces of Quebec and New Brunswick. Similar to its Canadian neighbours, Maine is a lovely contrast of rugged coastline dotted with picture perfect lighthouses, fishing villages and sandy beaches, and an interior covered with lush forest, towering mountains and mirror-like lakes.
Maine is the largest state in the New England area, but remains one of the most sparsely populated states in the country, creating a wide expanse of unspoilt wilderness. The original inhabitants of the area were Native Americans of the Algonquin group, while European settlement by the French occurred in 1604. Over subsequent years, control of the region was fought over by the English, French and the Americans - evidence of which remains in the large number of historic forts still standing today. The strong Acadian and French Canadian heritage of the area can still be felt, particularly in the Acadian Village in Aroostook county and other parts of central Maine, while the coast boasts a fierce maritime heritage.
The warmer months bring a flood of holidaymakers to Maine and summer homes pepper the landscape. With plenty of outdoor activities, this is the nature lover's and outdoor enthusiast's paradise. The state experiences harsh winters, but this brings its own charms as snowboarding, skiing and snow-shoeing replace the summer activities of canoeing, kayaking, camping and hiking. In true New England style, autumn brings a festival of colours to the foliage and spring is a riot of blossoms. The Acadia National Park, on Maine's Mount Desert Island, provides an opportunity to enjoy the spectacular beauty of the state, as well as its wildlife and birdlife.
History buffs can enjoy plenty of historical sites, including visits to the house of poet and Maine native Henry Wadsworth-Longfellow; food lovers can feast on the region's fine seafood and blueberries, and city lovers can roam the streets of the capital Augusta and the bustling city of Portland. Maine is big, beautiful and charming, and is well worth exploring from top to bottom, whatever the season.
Become our Maine Travel Expert
We are looking for contributors for our Maine travel guide. If you are a local, a regular traveller to Maine or a travel professional with time to contribute and answer occasional forum questions, please contact us.